VonZipper Snark Sunglasses
Beware of the boojum.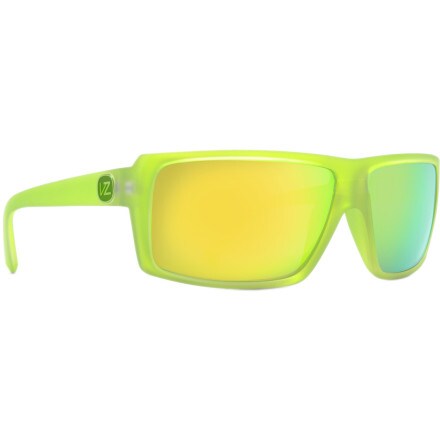 Quantity Remaining:
17
Time Remaining:
Description
Pull on the Von Zipper Snark Sunglasses when you convince your buddies to join you on the hunt for a mystical creature you just made up. Von Zipper gave the Snark sunglasses polycarbonate lenses to enhance clarity and block UV rays as you traipse through the jungle, thimble in hand, and half drunk on hope. The nylon grilamid frame withstands the epic battle with the beast, and it looks sweet in the after-photo.
Tech Specs
Frame
Grilamid (nylon)
Hinge
steel
Lens
polycarbonate
Interchangeable Lens
no
Polarized
no
Face Size
large
Case Type
soft
Nose Pads
no
Temple Pads
no
Recommended Use
causal, snark hunting
Manufacturer Warranty
Lifetime
Sizing Chart
VonZipper
Sunglass Lens Tints

| | VLT* |
| --- | --- |
| ASTRO GLO | 12.5% |
| GALACTIC GLO | 15.9 - 16.0% |
| QUASAR GLO | 15.0% |
| METEOR GLO | 13.4% |
| BRIGHT GOLD CHROME | 16.3% |
| GOLD GLO & GOLD CHR | 13.0% |
| KOSMIC CHROME | 11.3% |
| LUNAR CHROME | 9.4% |
| ASTRO CHROME | 10.0% |
| Grey Chrome | 10.3% |
| GREY CHROME | 10.3 - 11.3% |
| STD GREY | 10.8% |
| STD BRONZE | 9.9% |
| VINTAGE GREY | 20.9% |
| STD GREY GRADIENT | 15.4% |
| VINTAGE GRADIENT | 10.4% |
| OLIVE GRADIENT | 22.0% |
| BROWN GREEN GRADIENT | 16.4% |
| GREY BLUE GRADIENT | 23.9% |
| STD BROWN GRADIENT | 14.5% |
| BROWN GOLD GRADIENT | 24.4% |
| GREY PC POLARIZED | 12.0% |
| BRONZE PC POLARIZED | 10.9% |
| GALACTIC GLO PC POLARIZED | 12.5% |
| GREY MELANIN LENS POLAR | 12.5% |
| BRONZE MELANIN LENS POLAR | 12.7% |
| GREY GLASS POLARIZED | 10.6% |
| BRONZE GLASS POLARIZED | 10.1% |
| GREEN CHROME GLASS POLARIZED | 11.9% |
| VERMILLION GLASS POLARIZED | 10.3% |
| STD GREY | 16% |
| STD BRONZE | 13.2% |
| STD GREY GRADIENT | 22.2% |
| STD BROWN GRADIENT | 23.5% |
*VLT: VLT IS THE AMOUNT OF VISUAL LIGHT THAT IS TRANSMITTED THROUGH THE LENS.

THE PERCENTAGE OF AVAILABLE LIGHT ALLOWED TO REACH THE EYE (THE LOWER THE NUMBER, THE DARKER THE LENS)
Reviews
VonZipper Snark Sunglass Review
September 12, 2012
The Snark from VonZipper is not only stylish and bold but really comfortable for the amount of coverage they offer. Especially the bridge area, you don't even notice whereas similar shapes from other brands tend to cause pressure and leave red marks on your face after wearing them for fifteen minutes. I have a dark green chrome lens and the chrome is so dark that nobody can look in. On the durability front, the hinges never loosen and I have dropped them plenty of times with no breakage or chipping. I would recommend the Snark for any snowboard, skate, or surf types who want a casual sunglass they can occasionally get active in.
– Dakka
Snark
December 19, 2009
Great sunglasses for me. I have a more narrow face and normally can't pull of larger lenses, but these have worked for me. I recommend these and would buy another pair.
– Jordan Mash
VERYY CHEAPPPP!!!!
August 2, 2012
I have had the glasses for about a month now and the paint on the inside is already comming off. DON'T BUY THEIR NOT TOP QUALITY LIKE 85$ SUNGLASSES SHOULD BE!!!
– ryn5686599
Face Melt - Now Frosteez
July 10, 2012
I bought the Facemelts 2 years ago and use them every time I hit the beach at Snowbird. Not bad for bluebird day carpet runs but really not designed for that. Ordered my second pair recently, the Frosteez. Way cool all the way around...I just wish they were polarized!
– ThunderBeaver
re: sea shepherd colorway
June 14, 2012
Let me preface this by saying that while I am 100% in support of conservation efforts put forth to save our oceans and the wildlife they contain, I don't exactly condone some of the tactics that the Sea Shepherd has used in the past to do so. That being said, Von Zipper's partnership with Sea Shepherd is as ballsy as it is noble and perfectly executed, and thusly one I'll still wholeheartedly support. Now, on to the sunnies themselves. They are Snarks. They fit perfectly. They look dope. They help save whales. Wearing them makes you feel tingly inside. And tingly outside too. * called "Gnarwhale Navy," the Sea Shepherd colorway is a very dark, matte navy blue that looks black from a distance and in flat light (like the recycled VZ "Shift Into Neutral" collection), but turns a deep shade of blue when light hits it from behind. Just like the ocean. Get it? I've never called a pair of sunnies 'spectacular,' but if I did, I'd save it for these. * made in Italy, if you're into that sort of thing
– Zach Pina
Good Fit, Decent Lenses
July 31, 2012
I really like the fit of these glasses. I bought the Frosteez limited edition Blue Astro Chrome color. I love the color of the mirrored lenses and the visual clarity is pretty good. I have not had a pair of non-polarized glasses in a long time but these definitely are doing the trick.
– Chase Skidmore
Awesome, the end
June 18, 2011
These sunglasses are cool, every single one of them. Careful though, the lenses will scratch easily!
– Alex Laugeman
These shades are tight.
June 18, 2011
I got the green ones when they were still in stock. Absolutely love them. Fit great on the nose and don't slide around at all. Polarized lenses are sick. I get complements on these shades all the time.
– Chad Standring
Nice Glasses, light weight, made in Italy
May 7, 2012
Ordered several pairs of glasses so that I could try on all of them together and then make my choice. The Snarks won! They are really light weight and still manage to feel solid in your hands. Made in Italy. Not as big as the Vonzipper Elmore. I have a large face and the Snarks fit it well. Definitely going to be buying another pair but in what color?
– Jroots
My Snarks
May 28, 2011
Great sunglasses, love them bought 2 pairs and my little brother already took a pair away and hir rocking them...
– Jonathan Oyola
My Snarks
May 28, 2011
Great sunglasses, love them bought 2 pairs and my little brother already took a pair away and hir rocking them...
– Jonathan Oyola
the slime!
February 15, 2011
Had the slime ones an got props everywhere in em, but I drink to much an lost em wasted somewhere, Shitty! I lose all my zippers to bein trashed! Def gettin a couple more pair!! Love the VZ
– Josh
awesome
January 16, 2011
i will keep it simple. I have 4 pairs!
– Alex K
Snarkelicious!
May 30, 2011
Love my Snarks. Got the Tangerine Orange. A warm, rich color. What I also liked a lot was DogFunk's customer service! My glasses had a manufacturing fault in them,the first time delivered and they immediately sent me a replacement, the same moment i chat with them about it. Got a return UPS label e-mailed to me free of charge the same moment too. "That's what I call customer service!!!" Great experience. My son loves them too so added a pic of him wearing them.
– jan4642193
perfect, times 10000000
September 26, 2011
fit my face perfect, and seem to fit just about anyones face. the face melt lenses look great. the hinge, lens, and frame are all insanely durable, and with dog funks pricing, they are completely irresistible. get some.
– bailey miller
they rule!
July 4, 2011
Had the slime frame with blue lenses all unrolled I was wasted an they disappeared like 4 other pair of my zippers! But they were for sure one my fav glasses! Rock em hard...
– Josh
Like wearing see-through, metallic orange peels
August 23, 2010
I've always wanted to wear see-through, metallic orange peels on my face, but I think this is as close as I'm going to get. Got the facemelt edition. I've got a larger head and they fit me well. The arms extend back past the ears which makes for a good fit, and means they are less likely to fall off. That being said, I'm a pretty active person and expect to be able to put glasses through a beating. Von Zipper includes a little note with the glasses basically saying 'these are a piece of art. you wouldn't wreck a piece of art, so please be gentle with your pretty new sunglasses!" Hm. For 70 bucks I personally think you should be able to throw them down the stairs and they run back up to you, but I guess style points help make up for lack of abusability. Enjoy.
– Joe Ballent
One-Piece Flavah
March 20, 2009
These shades are sick. I had to get the clash color to match my one-piece for spring skiing. I would definitely recommend snatching these up as your drinking shades.....Tight!
– killerPOWman
like a tuna melt, but with more face
June 5, 2010
Potentially hazardous side effects of wearing the Snark: - faces rocked - faces melted - eyeballs popped - shock - awe - more shock - babies being born with electric guitars for hands * keep in mind the facemelt colors get a little darker once they're on your face (pink looks more like red, etc.) * sick retro wraparound frame probably best for medium to largish faces
– Zach Pina
sheeezzzz
June 7, 2010
these sunglasses are the best!! white w/ blue lenses what else can you ask for! also the frames fit my narrow face perfect so... i mights order some more colors
– jle3851236
Sweet Shades!
May 11, 2009
I've got the black glossy and they are sweet!
– eri3019502
Von Zipper Snark - FACEMELT
May 12, 2010
I have a pair of the VZ Snarks in the Facemelt Swamp Juice/Astro Chrome and they are dope! I get compliments on them all the time and everyone wants to try them on. The frame is made of nylon grilamid meaning they are tough and can flex a bit, they have a base 6 wrap meaning they will cover your face and protect your eyes from the sun, and the reflective lenses are just baller! I would give them 6 stars if I could...
– Brian Limoges