XCEL Hawaii 4/3 Offset Zip Wetsuit - Women's
Surf through spring.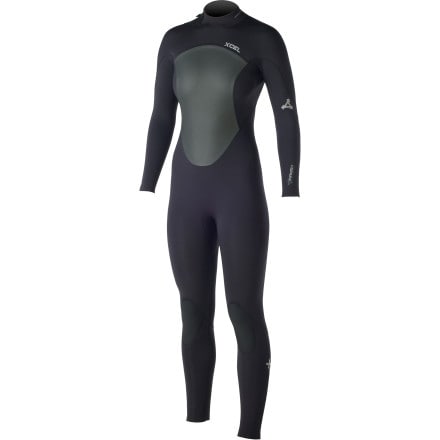 Quantity Remaining:
20
Time Remaining:
Description
The swell gets good when the weather gets bad, and the Xcel Women's 4/3 Offset Zip Wetsuit is just the wettie to keep you warm and comfortable when spring weather is cool and blustery. The full-length offset back zip makes this beauty easy to climb in and out of, and behind the zip is a flush-stopping water barrier. Inside, you'll find a heat-retaining Thermocarbon lining and minimalist seam construction for long-lasting comfort, while wind-resistant Texture Skin technology helps keep your core warm. Comfortable doesn't mean flimsy, though, as the seams are glued, blindstitched, and pressure-taped to increase waterproofing and durability, and the knees are outfitted with stretchy Duraflex panels. Neck to ankles, this suit flexes and moves with you so you can dive into the water, duck under a wave, and drop in on the first set before your friends can even fathom why you left the warmth of the beach far behind.
4/3 Ultrastretch neoprene
Thermocarbon viscose from bamboo and recycled polyester lining
Glued and blindstitched seams with pressure-bonded taping
Offset back zip with an inner neoprene dam
Wind-resistant Texture Skin technology
Minimal seam design
Double-layer Ultrastretch collar with SmoothSkin lining
Flexible DuraFlex knee panels
Tech Specs
Material
[body] Ultrastretch neoprene; [lining] Thermocarbon (viscose from bamboo, recycled polyester)
Water Temp
54 - 57 deg
Thickness
4 / 3 mm
Zip
OS (offset back zip)
Seam Construction
Fusion (glued and blindstitched, pressure bonded taping)
Recommended Use
surfing, SUPing
Manufacturer Warranty
1 year
Sizing Chart
NOTE:

This should be used as a guide only. If you are between sizes, XCEL suggests that you size up.
XCEL Sizing
Women's Wetsuits
Height
Weight
Bust
Waist
Hips
4
5ft-5ft 3in
(154-160cm)
95-105lb
(43-48kg)
32.5in
(82.5cm)
24.5in
(62cm)
33.5in
(85cm)
6
5ft 2-5ft 5in
(158-165cm)
105-115lb
(48-52kg)
34in
(86.5cm)
26in
(66cm)
35in
(89cm)
8S
5ft 2in-5ft 4in
(158-163cm)
105-120lb
(48-54kg)
35.5in
(89cm)
27.5in
(70cm)
36.5in
(93cm)
8
5ft 4in-5ft 7in
(163-170cm)
115-130lb
(52-59kg)
35.5in
(90cm)
27.5in
(70cm)
36.5in
(93cm)
8T
5ft 7in-5ft 10in
(170-178cm)
120-135lb
(54-61kg)
35.5in
(90cm)
27.5in
(70cm)
36.5in
(93cm)
10S
5ft 3in-5ft 6in
(160-168cm)
120-135lb
(54-61kg)
37.5in
(95cm)
29.5in
(75cm)
38.5in
(98cm)
10
5ft 5in-5ft 8in
(165-173cm)
130-145lb
(59-66kg)
37.5in
(95cm)
29.5in
(75cm)
38.5in
(98cm)
10T
5ft 9in-6ft
(175-183cm)
140-155lb
(64-70kg)
37.5in
(95cm)
29.5in
(75cm)
38.5in
(98cm)
12
5ft 6in-5ft 9in
(168-175cm)
150-165lb
(68-75kg)
40.5in
(103cm)
32.5in
(82.5cm)
41.5in
(105.5cm)
14
5ft 6in-5ft 9in
(168-175cm)
160-180lb
(73-82kg)
44in
(112cm)
36in
(91.5cm)
45in
(114cm)
How to Measure:

For best results, take measurements over your underwear.

Bust:

Measure under your arms, around the fullest part of your chest.

Waist:

Measure around your natural waistline, keeping the tape a bit loose.

Hip:

Measure around the fullest part of your body at the top of your legs.