DAKINE Wheeled Duffel Bag - Small - 3500cu
Rolls like your lowered muscle car and moves gear like a soccer-mom's minivan.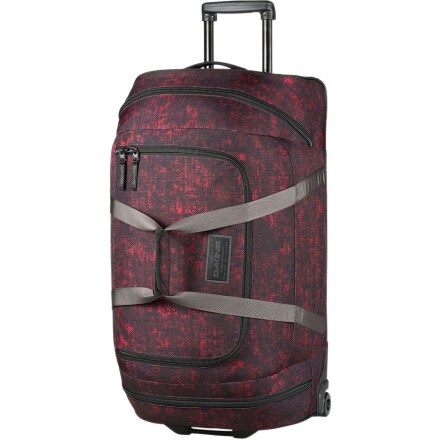 Quantity Remaining:
14
Time Remaining:
Description
With just enough space to fit the things you need for a long weekend in Maui, the DAKINE Wheeled Duffel Bag gives you a soft-top alternative to that boxy rolling luggage your mom owns. This rolling bag rocks a u-shaped top opening for quick access and a retractable handle that makes running between terminal gates a breeze. Stuff the zippered end pockets with a few goodies for the road, and stash this sweet carry-on in the only remaining overhead space.
Reviews
All around good bag
January 16, 2011
Great bag, good size-was able to bring on as carry on. Great style and light weight! Well worth the money!
– dan4340246
Bigger than it looks (so she says)
November 9, 2011
My first return- it's pretty darn big. From the floor-up no way it will fit in an overhead bin, which is why I bought it. 14" is the height with nothing in it (when having it laying normal with it opened up) Stuffed full it easily gets to 20". Great quality though ifmyou need a durable ,edium sixpze travel bag you don't mind checking in.
– jkastorff1847387
55 in only qualifies for carry-on on Trans Air & Jet Blue
June 7, 2011
28.5 x 14 x 12.5 in = 55 in does NOT qualify for carry-on unless you are traveling on Trans Air or Jet Blue (Airbus A320). Southwest and Virgin America allow up to 50 in. Most other airlines limit carry on bags to L+W+H<=45 in (115 cm) < 9 x 15.5 x 21.5. I know from personal experience that if it is longer than ~ 25 in it won't go long way in to many overheads. Having to check it significantly reduces its appeal.
– Ralph McNall