Burton Power Stretch Liner - Men's
The Burton Power Stretch Liner gives you versatile warmth and lightweight flexibility.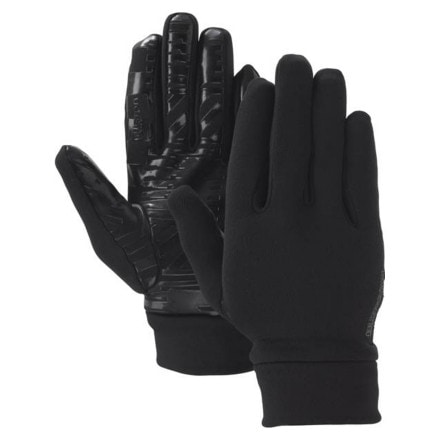 Quantity Remaining:
7
Time Remaining:
Description
Slip on the Burton Menís Power Stretch Liner glove and treat your texters to indispensible warmth and stretchiness that you can wear under your shred glove on freezing days, or on its own on walks through town. Four-way Powerstretch fleece is engineered for flexibility, warmth, and breathability, so you won't be hindered by this lightweight Burton glove whether you're shredding gnarly big lines, or walking around a foreign ski town in search of a six-pack. A Sticky Icky grip palm keeps your hand from slipping around inside a shell glove, and helps you keep a grip on your cold one so you donít spill adult beverage all over the hot girl at the ice bar.
Tech Specs
Material
powerstrech fleece
Recommended Use
layering under a glove shell
Manufacturer Warranty
1 year
Sizing Chart
Burton
Gloves and Mittens
Men's
XS
S
M
L
XL
XXL
Width
3in
(7.6cm)
3.25in
(8.25cm)
3.75in
(9.51cm)
4.25in
(10.8cm)
4.75in
(12.1cm)
5.25in
(13.2cm)
Women's
XS
S
M
L
XL
Width
2.25in
(5.7cm)
2.5in
(6.35cm)
3in
(7.6cm)
3.5in
(8.9cm)
4in
(10.2cm)
How to Measure:

Measure your hand across the knuckles with a tape measure, not including the thumb.
Reviews
My go to gloves
March 19, 2012
I really like these gloves. The grip makes em good for driving, they looks cool for hanging around town, and I use em for my base layer under mitts when I'm snowboarding. I had a pair of these from 3-4 years ago and the cut has definitely changed - shorter cuff and thicker material. I did size up one level for these after reading the reviews on here, and that was the right move for me. I think these are well worth it for the price!
– lavalord11
Love them!
March 23, 2011
Great summer glove, super comfortable. They work great as an under glove on real cold days. I even wear these by themselves from time to time on a cold day as long as the snow is nice and dry. Pros: Surprisingly warm. Low profile, not bulky. Long lasting, made well. Cons: Sticky grip doesn't stay sticky for long.
– dj_2818928
Love them !
March 18, 2011
I love these liners, on a warm day in the mountain they are great to wear instead of nothing, cause they dont get to warm, and on a cold day they are awesome to wear under your glove and it prevents you from getting wet and cold, Love them !
– Jon Vika
Wam gloves
February 6, 2012
One of the best liners to get. I ride all the time and use these gloves as my everyday gloves these gloves have never ripped on me. They also keep your hands very warm even when its freezing outside! bottom line: Even tho they are a liner they can still be used as normal gloves
– Jared Kinsey
Hide them or show them
October 5, 2012
Rock these bad boys solo in the spring or hide them in the midwinter. 4 way strech works great under a glove and the sticky icky grip works wonders on those spring days when you need a little extra help on those grabs.
– four hoursemen
Way to small
February 17, 2012
As a guy with somewhat smaller hands I though the M/L was a safe bet. They were so small I couldn't even get my hand in them. Guess I'll be paying the 7 bucks to return these...
– dan2962228
Need some work on quality
November 21, 2010
I went through two pairs of these last season. I really like the feel and fit of the glove. The coating on the palm is super gripy, which is a nice feature, but the overall quality of the glove just isn't there. I used the liners for backcountry touring, and driving. On both pairs the stitching came apart on the thumb and first two fingers after about a month of use. If you want a pair of liners that you will only use occasionally, these would work great. If you are looking for a quality liner to use for skinning or daily driving I would pass on this liner because it will fall apart.
– silas shirley
This batch is small
February 17, 2012
Surprised no other review mentioned how small these are.I wear size 9 in hestra gloves,ordered these in m/L,can barely get hand in glv.I've come to believe chinese made goods very from batch to batch.
– dcsept471308450
perfect fit
February 9, 2012
as a female, i got the size small and they fit wonderfully. got the Mascot color. Love these for taking my dogs out, I can actually grasp a plastic bag without taking my gloves off! Perfect! Have used them as a liner on the hills too, perfect on chillier days (as these are pretty warm on their own). Stylish and vibrant without being blinding, the perfect casual glove.
– jul5407195
Not up to Burton quality standards
January 19, 2012
The gloves lasted me one day of light use before the cuff started separating from the upper of the glove and fraying badly. In addition the large seams on the inside of the glove are not very comfortable. Not recommended.
– Robert Inness Eisele
Great Glover Liner
February 21, 2012
I love these.. i use them on the mountain and when around town.. these are a very nice set of gloves, with a good grip.. i wear the s/m under my medium gloves with no problem.. i personally have an approx. span (from base of my palm to the tip of my middle finger) of 7 inches.. they are a tight fit, but that is what i was looking for.. quality product from burton, i would recommend to others..
– BeatSkiFree
Review Title
November 30, 2009
I usually wear a med glove, also measures 7.5in from wrist to tip of middle finger. M/L was too short. L/XL fits perfect.
– mydan122968824
Second to none
September 21, 2010
Beef up your pipe gloves to make it a little warmer, use them under an already warm glove to make it really warm or use them solo when you're tying boots and messing with items in your pockets. I usually run a large glove from Burton but I've found the S/M in these stretches out just right to layer with gloves accordingly. From the end of the wrist to the tip of the middle finger the S/M measures 9" before it stretches any. I love the red because it resembles Spiderman.
– Dakka
Great inner liner
November 29, 2011
Awesome gloves. Perfect fit for mittens. I bought these for my burton oven mitts because I had lost my glove liners from the previous snowboard season, and they are top notch quality, just as before. I recommend these to anyone.
– Cody
best glove liners
January 15, 2012
These are great as liners as well as for every day use. They fit well, the construction is solid, and they don't restrict range of motion at all...and sangria is an awesome color. I like these so much that I sent back a couple pair of my other liners because they didn't compare.
– Kat Cooper
Nice liner.
December 17, 2012
It's your basic tight-fit liner. The grippy stuff works well and the quality was nice. Fits close; don't order too small.
– cnoeemail-2268714
perfect gloves
April 3, 2011
great gloves for bar hopping in whistler. also good for being a liner of gloves you may have for boarding. fit normal and well. packs very small. no extra material getting bunched up.
– Jeremy Keenan
Burton does it again!
March 14, 2011
This is my third pair! I end up buying a new pair every year, as I seem to lose mine, and then wear them out running, skiing, and hiking. I love the sticky grip. These are a great price for the glove. By far my favourite ones!
– ful3125034
Great 'til my wife lost em ice skating
January 1, 2011
So nice to pair with AK Clutch gloves on cold wet days...that is they were great until my wife borrowed them to go ice skating with my daughter. She took them off to take off her skates and forgot to pick them up. The next day my hands were a little wet, and I realized how much they had been helping on soggy days.
– just_as_I_am
Nothing Special
October 29, 2010
There's not too much to these gloves. They prevent your fingers from freezing when you scramble for a lighter or your ipod but being made from polyester....good lord do they smell! Requires frequent washing and seams can be bulky under low profile glove.
– Jason Michnick
A Must Have!
October 21, 2010
Agree with the other poster, I normally wear a medium glove and trusted them by buying 2 pairs of the L/XL...they fit like I hoped they would! The grip is incredibly sticky, almost too sticky (I use these as driving gloves) for a car steering wheel. Very warm yet lightweight
– Garrett E
Everybody needs a pair of these
October 19, 2010
Whether you use them as driving gloves, or liners for your other gloves and mitts, you will be 100% stoked on them. They give you that additional warmth and have a nice grippy palm. So good for $20!!!
– Four Horsemen
They do the job well
March 3, 2011
I thought the tiger stripes on the inside of the gloves were weird and not needed when I ordered them, but the grip that they give you actually helps sometimes because it sticks to surfaces like your board. They arent warm enough to just wear them on a normal cold day, but they arent made for that. Wearing them under gloves means your hands dont get cold or wet after hours and hours of boarding and falling. Its great to have them so when you take your outer gloves off on the lift, you can do anything you need to (except maybe pick a new song on your ipod) without getting your hands freezing
– pez3728203
Great Price for Disposable Gloves
May 24, 2010
So I got a black pair of these from Keystone Resort. Perfect gloves for all around winter use. The get wet easy but dry fast. One mishap; I lost the righthand glove at the airport picking my buddy up. So, I bought a gray pair from BC to replace them. Great grip for driving too...sometimes too much. But wait... I lost the lefthand glove of the gray pair. So, now I wear one black and one gray glove.=) Only thing is that the thumb ends are going from striking BICs with them on.
– Mario C.
Just a liner
October 29, 2010
You could definitely find a better liner than these. They do the job but the stitching is cumbersome under another glove and they require frequent washes because polyester likes to get stinky! Suck it up and get some merino liners
– Jason Michnick
The goods
December 11, 2009
These liners are good warm and solid nice sticky on the bottom to help you grab and pull perfect for under pipe gloves for the colder days and to wear in the lodge overall goods
– DEREKG
Hi, I'm Spiderman and these are my gloves.
September 30, 2009
These straight up PWN! (sorry for that). But seriously, if you're on the fence about these, I strongly suggest you crawl out from your frugal habits and scoop a couple pairs up. Many other manufactures make a liner similar to this, but none with this great of palm grip or a cuff as good as these. Others have cuffs which are either too long or too short. these ones are juuuussst riighhht. :)
– Dakka
Nice thin liner.
June 7, 2011
Thin, palm is grippy which makes it a great driving glove. Wore them in Tahoe this past March and they were warm enough to walk around in. They get wet easily though, I wouldn't ride in them. I have pretty big hands and an L/XL fits fairly well.
– Matt Parent