Surftech Mark Richards Flying Fish Surfboard
Fly like a bird with the nimbleness of a fish.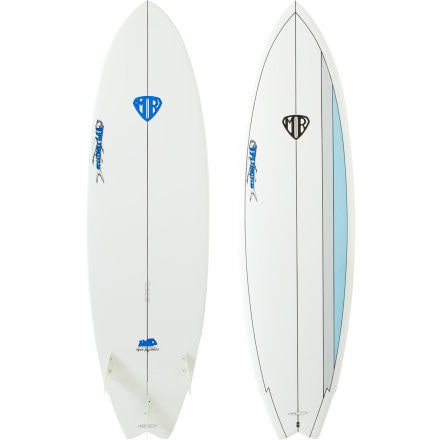 Quantity Remaining:
2
Time Remaining:
Description
A beach-bound upbringing by his Aussie folks is what made Mark Richards a four-time surfing champion and legendary shaper. The Mark Richards Flying Fish Surfboard blends his most popular and aggressive fish shape cut around a Tuflite core for high-speed assaults in small(ish) surf. Low-entry rocker in the full nose, single-to-double concave that runs into a V-spine, and a thruster set-up under the pulled-in swallow tail is what makes this floaty Epoxy board the number-one choice for aggressive surfers looking for the ideal blend of performance and durability.
Durable Tuflite EPS (fused-cell) core helps eliminate the possibility of water absorption if you crack the epoxy coating
Tech Specs
Length
7 ft 6 in
Construction
Tuflite
Nose
14.17 in
Center
22.25 in
Tail
15.75 in
Thickness
2.88 in
Fins
FCS thruster
Recommended Use
tiny to head-high
Manufacturer Warranty
1 year
Reviews
Fun has a name and it's Mark Richards
November 21, 2012
Got the 7'6" Mark Richards Flying Fish as the little pistol to my quiver and it's a beautiful thing. I only get to surf when gale force ENE winds bring waves to the western shores of Lake Superior, so I'm stoked whenever winds are up, but this board is a thing to behold... stable and easily maneuverable in unpredictable waves, this guy knows how to have a good time. Plus it was a STEAL and shipped for free in a few days. Win win win win win.
– klillega
weird, but to each his own.
August 4, 2012
this board is super long and skinny for a fish, and rides nothing like a fish. It turns like a fun board, has more stability with thrusters instead of a two fin fish set up. I don't like the way it rides on rail and its too much of a log for my liking. Plus epoxy is a wreck to fix, expensive and looks ugly when fixed.
– bailey miller
7' dimensions
October 4, 2011
7ft 0" Nose: 14.5" Center: 21.75" Tail: 15.5" Thickness: 2.88"
– Josh Chapman