Stoic Merino Comp Trail No-Show Sock - 2-Pack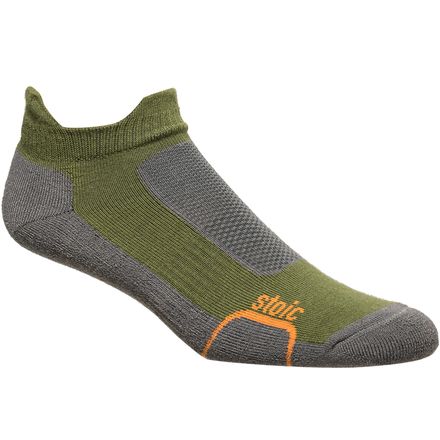 Quantity Remaining:
76
Time Remaining:
Description
Find freedom along a winding trail thanks to the two-pack Stoic Merino Comp Trail No-Show Sock, which hugs your foot and keeps it dry and cool throughout the miles.
Lightweight fabric with merino wool allows ample breathability, moisture-wicking, and quick-drying performance that resists odor for long hikes and runs
Light cushioning on the sole aids your steps when running on rocky trails
Spandex provides the flex and arch-hugging structure to match your foot's natural shape and to prevent movement and blistering
No-show style provides just enough coverage for your running or hiking shoes so you don't overheat in the summer heat
Two-pack includes two pairs of socks
Tech Specs
| | | | |
| --- | --- | --- | --- |
| Material | 39% merino wool, 39% acrylic, 20% nylon, 2% spandex | Height | no show |
| Recommended Use | trail running, hiking, trekking | Manufacturer Warranty | lifetime |
Sizing Chart
Stoic
Socks

| | S | M | L |
| --- | --- | --- | --- |
| US Men's | 4-7 | 8-11 | 12-14 |
| US Women's | 5-8 | 9-12 | |
| Euro | 36-40 | 41-45 | 46-49 |
Reviews
They come with no holes.
August 8, 2012
Pretty nice socks better than wall mart. The best feature is that they are marked left and right.
– dbr4201486
Really Comfy
August 6, 2012
I can really only stand to wear ankle-high socks, and these are as nice as I've put on. Good material, comfortable, breathable and won't stretch out much. I like 'em.
– Alex Zuhl
Awesome
July 12, 2012
These socks fit great and are very comfortable. I use them for everything from running to biking and have loved them. I wear a size 10 and went with the S/M and they are perfect. The stretch out a bit to accommodate your foot without being too tight.
– Mike Lee
Great fitting running sock
June 13, 2012
The thing I love about this sock is the fit. Generally my 9.5 feet are either to big for a sock, or more often on the small end of the 9 - 11 size that most socks seem to come in. These socks fit my foot just right. They are very comfy and have been great to run in.
– Jon Coltharp
Mid-weight Running Sock
June 12, 2012
If you've never tried Merino wool socks before, you'll absolutely love 'em. Be warned though (as previous comments show) that these socks are NOT lightweight/minimal for trail running. Excellent warmth, keep your feet warm even when wet, cool in the summer, but if you're looking for a lightweight running sock these may just not work for you. On all other counts, best socks I own. Bought a 4-pack and then bought another one as soon as I wore my first pair to they gym. Love 'em.
– stridemon
Not so Light Cushioning.
June 7, 2012
So, when we say "light cushioning," what we actually mean is a sock that is as thick as my cushioned IceBreakers or Darn Tough socks, but these socks are like that all the way around. I wanted something pretty minimal for my trail run shoes, but these make them too tight to bear. If you've got some space, though, the sock is comfy and soft, and I love asymmetrical fits.
– Sonya
Awesome.
May 22, 2012
I love these socks. So much that I'm up to six pair, and will most likely pick up more in the future. They fit so well and have the perfect amount of thickness, enough to add some nice cushion but, at the same time, not so much that your feet overheat on warmer days. I've used them in all types of conditions: from winter to summer, from daily/casual wear to cycling and hiking. Very comfortable.
– Eric Olofson
My new favorite summer sock!
May 18, 2012
Keep making these please!!!
– Sam Furner
Great socks...
May 13, 2012
I have been very happy with these socks. They seem to fit my feet the way you would imagine a good sock should fit...perfect. There is a little padding to make my foot feel coddled, but not too much to feel all bulky inside my shoe. I enjoy wearing these for daily use as well as to hike the trail with.
– Chad Poindexter