Stoic Merino 150 Crew - Long-Sleeve - Men's
Wicks moisture better and smells better than polypro.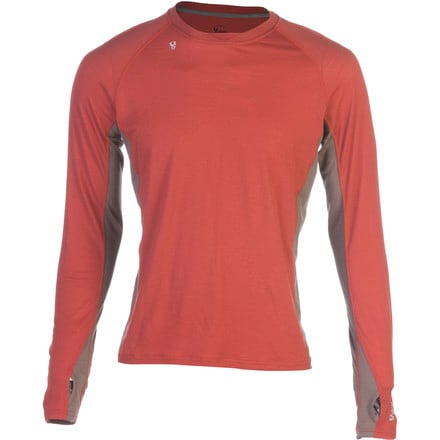 Quantity Remaining:
70
Time Remaining:
Description
Forget your fears about itchy wool\\227the Stoic Merino 150 Crew Shirt is a whole different beast. Employing 17.5-micron Merino wool from New Zealand, the Merino Crew Shirt ensures comfortable, dry days whether you're out for a mid-January dawn patrol or an autumn ride down the single track. Merino transfers moisture while your sweat is in its primary vapor form, so unlike most synthetic fabrics the Merino Crew Shirt begins to pull moisture away from your body before your shirt becomes saturated. And since wet usually means cold in the backcountry, warm Merino is the way to go. The athletically-fitted Merino Crew Shirt feels great against the skin so you can wear it during your ride and then to the pub, and your post-ride car mates will thank the powers that be for Merino's natural odor-shunning properties. A reflective logo hit on the Merino Crew's front neckline ensures a little more safety during your evening runs, and the thumbholes at the cuffs take the bunch out of layering.
Backcountry.com is the exclusive US distributor for Stoic products
Tech Specs
| | | | |
| --- | --- | --- | --- |
| Material | 17.5-Micron Merino wool | Insulation | Lightweight |
| Recommended Use | Layering, skiing, climbing, hiking, backpacking | Manufacturer Warranty | Lifetime |
Sizing Chart
Stoic
Men's Apparel
S
M
L
XL
XXL
Chest
32.4 - 35.6in
(82 - 90cm)
35.6 - 38.8in
(90 - 98.5cm)
38.8 - 41.6in
(98.5 - 105.5cm)
42.8 - 45.6in
(109.5 - 116cm)
46.8 - 49.6in
(119 - 126cm)
Sleeve Length
32.4in
(82cm)
33.6in
(85cm)
34.4in
(87cm)
35.6in
(90cm)
36.4in
(92.5cm)
Waist
26.4 - 29.6in
(67 - 75cm)
29.6 - 32.4in
(75 - 82cm)
32.4 - 35.6in
(82 - 90cm)
36.4 - 39.6in
(92.5 - 100.5cm)
40.8 - 43.6in
(103.5 - 110.5cm)
Hip
32.4 - 34.4in
(82 - 87cm)
35.6 - 37.6in
(90 - 95.5cm)
38.8 - 40.8in
(98.5 - 103.5cm)
41.6 - 43.6in
(105.5 - 110.5cm)
44.8 - 46.8in
(114 - 119cm)
Inseam (full length)
31.6in
(80cm)
32in
(81cm)
32.4in
(82cm)
32.8in
(83cm)
33.6in
(85cm)
Inseam (3/4 length)
15in
(38.1cm)
15.5in
(39.4cm)
16in
(40.6cm)
16.5in
(41.9cm)
How to Measure:

For best results, take measurements over your underwear.

Chest:

Measure under your arms, around the fullest part of your chest.

Waist:

Measure around your natural waistline, keeping the tape a bit loose.

Hip:

Measure around the fullest part of your body at the top of your legs.

Inseam:

Using pants that fit well, measure the crotch seam to the bottom of the leg.

Sleeve:

Measure from the center of your back to your wrist with arms held out.
Reviews
Not Recommended...too itchy
March 12, 2012
First off, I'm moving more towards merino wool for base layering and bought this long underwear expecting top quality, but I have been disappointed with this product as it is way too itchy even after several washings. Good size and good style with thumb holes however. I also own some smartwool clothing, and feels so much better on the skin. I returned this item and bought a different top. I hope backcountry takes a look at this product and changes it because i'm willing to give them another shot on their merino products down the road. After all they are a fantastic company...so they should have fantastic quality gear in their stoic line also
– Brahcraft
Love me some Merino
November 3, 2011
Great merino top! 5'10", 42" chest, 34" sleeves, and a large fits me like a normal t-shirt. I probably could have done a medium if I wanted a really close fit, but this one is fine. The sleeves are the right length for me to take advantage of the thumbholes. And, it has thumbholes! SAC pricing makes it even better!
– Dave Marcus
Solid
November 1, 2010
I prefer merino over any synthetic base layer material, and this shirt is exactly what I need for 4 season use. the fit is a little different. It's longer in the sleeves than it should be, and the neck is a little tight, but I am rarely concerned with fit. I wear whatever isn't too tight, and super baggy doesn't both me. For this I decided since it's a fitted item I'd with my normal size. I'm 5'5", 150 - athletic build. Got a Medium in this and it fits well. long in the sleeves, but good in the torso. It should work great under a shell or alone in the spring/summer/fall for running/hiking.
– Rich Fahey
Good, not great
April 30, 2013
Little itchy Warm Sleeves were a little long and tight in the shoulder/armpit area causing more sweating.
– yakattack
Stoked about Stoic!
January 4, 2012
Awesome shirt, but size up if you want to look descent wearing this solo. I normaly wear med or large(5'9 185 lbs). XL in this thirt fits like a large on me. If you want to use this as a base layer only, stick with your normal size. It NEVER STINKS wich is great for many days in da woods. When you sweat a lot, it will stretch up to one size larger. I guess that's the nature of the merino. Buy this shirt, you will want another!
– Aaron Wilkerson
Very Nice
August 23, 2012
This is a great merino piece. The 17.5 Micron wool and 150 g/m weight make it very versatile. I use it as a base during the coldest months, with a light layer during the cool months and often by itself during the summer. That's right, a long sleeve during the summer. It does so well at keeping the sun off and breathes so well that I can wear it in 95 weather without too much trouble, and it keeps my skin from burning to death. Pros: Merino. Need I say more? Cons: As others have said, the sleeves are a little long. The thumbholes keep this from being a problem for me, but it may bug others.
– Steven Jones
Stoic Merino 150 Crew - Long-Sleeve - Men's.
July 28, 2012
Awesome,very comfortable,light yet a lot warmer than i expected.Was not sure about the thumb holes in the sleeve but they do caome in handy!!
– mgw5678853
I wear this shirt constantly
July 16, 2012
I LOVE this shirt. I have worn it hiking in cold temperatures on top and worn it during the dead of summer in the lowcountry of South Carolina. It works perfectly in both environments. In fact, I wear it so much, my wife has asked me whether I ever take it off (I do; I sometimes shower). I am 6'0" and 157 lbs. I ordered a medium, and it fits perfectly.
– Jonathan A. Marcantel
Outdoor Coupons Code!! Free get it: http://www.outdoors-promotions.com
July 10, 2012
Outdoor Coupons Code!! Free get it: http://www.outdoors-promotions.com
– naomo
recommended
July 2, 2012
A gift for my son, he loves it, light, yet warm merino wool.
– jan4184285
Good stuff
June 27, 2012
Nice weave on this 150 weight. Soft, warm, versatile. I could wear this in relatively cold weather for vigorous activity..granted, I run a bit warm compared to some, but that makes light merino layers like this invaluable. The extra long sleeves are fine due to the relative tightness on the forearms..they don't get in your way. 5'11 185 and I have the Large, fits great..doesn't look like I'm wearing compression gear, yet still form fitting enough for easy layering.
– ban5624442
Damn I look good!
June 23, 2012
Freaking love my Merino long-sleeve shirt. I am 6 foot and 160 LBS and I do have longer arms and stoic makes their products longer in the sleeves and I love that. The shirt fits so well and keeps me dry in the day and warm at night. I get a lot of compliments from friends on hikes about the shirt. Just get it!
– liffdog
Damn I look good!
June 23, 2012
Freaking love my Merino long-sleeve shirt. I am 6 foot and 160 LBS and I do have longer arms and stoic makes their products longer in the sleeves and I love that. The shirt fits so well and keeps me dry in the day and warm at night. I get a lot of compliments from friends on hikes about the shirt. Just get it!
– liffdog
REALLY comfortable
June 20, 2012
This is perhaps the most comfortable shirt I have ever encountered; you will definitely want to wash it before you wear it though. I am 6'0" and 158 lbs. I ordered the medium. It fits great. As indicated below, the sleeves are a little long, but that I believe is intentional---it facilitates the usefulness of the thumbholes. In any event, when I am not using the thumbholes, the sleeves are not noticeably too long.
– Jonathan A. Marcantel
Great warmth for weight
June 10, 2012
Thinner and softer than my Icebreaker 150, which I also love. I like the collar on these Stoics though..better for a base layer..the Icebreaker neck is a bit too big. Just depends on your preference. Definitely a softer feel to these Stoics, but I'm afraid a little more fragile. I snagged it a bit and got a rip in one of my sleeves way too easily. Overall, thumbs up..I wear these shirts solo for cooler weather activity or spring temps about town, and am plenty warm. I have several heavier weight merinos (Icebreak et al.) and I love 'em, but I am starting to prefer these lighter weights (150 and 200). Granted, I run a little warm, but even in our coolish Montana weather, these lighter merinos are fine on their own for strenuous activities in all but the stormiest weather. Add a shell or insulated out layer and can go hard all winter. I put a 260 Icebreaker over one of these tops and am usually crazy warm in freezing temps. 5'11" 185 and have the Large, and is just right for me..form fitting but not a spectacle when worn alone in public. Mediums would better for thinner builds or without a slight beer repository to cover up. As other have noted, sleeves run crazy long, but is not a real bother due to adequate tightness in the wrist cuff. By contrast, Icebreaker have more normal, i.e. correct, sleeve lengths, but are also looser in the forearm. In a nutshell, I love these tops when they're on sale, worth every penny. However, it's a harder sell for me at full price over Icebreaker..as price gets about the same, I'd lean toward IB.
– ban5624442
Perfect hiking shirt for those who like long sleeves
June 2, 2012
During the last several years I've relied on Icebreaker 140-150 weight long-sleeve shirts for most of my long-distance hiking three-season hiking. While I love the shirts, they get punched full-of-holes after a week or two. Also, Icebreaker only offers black and blue in its lightweight long-sleeved shirts while I'm much happier wearing orange or red. During the last few years, I began wearing merino tee shirts under my dress shirts to work and this year having converted completely to Stoic and Backcountry, have found their durability, appearance, and fit following routine machine washing and drying to be actually better than Icebreaker. The Stoic Merino 150 Crew-Long-Sleeve is a great shirt. It's soft, fits me perfectly in a large [at a height of 70 inches and a weight of 150 pounds, I'm happier with a loose fit], its a nice color, and, I'm hopeful that it will wear better in the woods than Icebreaker given the durability of Stoic tee shirts.
– dav100209432
Merino is Amazing
February 25, 2012
I had never given Merino a try until I got this piece, and I'm sold. I don't know what I was wasting my time all these years on, but having Merino against my skin has kept me warmer and drier throughout the day than I thought possible. Highly recommended!
– Cody Barnhill
Great design, with one flaw
April 28, 2012
I love the design of this shirt. In fact, I really like all the Stoic merino shirts. The cut of the sleeves is great for guys with long arms, and the shoulders are actually broad enough to be comfortable (I have really wide shoulders, but an itty-bitty waist). The fabric is really thin, enough so that it made me nervous at first. I'm pretty rough on my clothing, but these held up like champs. The fabric is noticeably thinner than equivalent Icebreaker shirts, and doesn't feel quite as plush. That said, they're holding up just as well as the competition. I actually prefer the Stoic cut, though thicker, fuller hand in the fabric weave may be a direction worth investigating for the product designers. On the other hand, the Stoic offerings breath better in warm weather. It's all a trade-off I suppose. There's only one problem I've had. The neck has absolutely ZERO stretch. I don't know why this is. The Stoic Merino Crew Short Sleeve shirt doesn't have this problem. The neck on the short sleeve version stretches over my head and returns to its proper shape just like any other T-shirt I own. The long sleeve, on the other hand, didn't stretch at all. The first four times I put it on and took it off I heard multiple stitches popping in the neckline. I'm not breaking stitches anymore, but the neck is still a bit tight to get over my head. Fortunately the neck hasn't completely disintegrated. Still, I wonder how this was overlooked. Possibly this has been remedied in the current model, but I don't know. That's the only thing keeping me from replacing my entire wardrobe with these shirts.
– UrbanPrimitive
The best baselayer
April 16, 2012
I used this all winter as a baselayer, almost exclusively for alpine skiing. It is soft, not the least bit itchy and I found myself wearing it around the house because it is so damn comfortable. Due to its light weight, it is not that warm on it's own but when paired with the stoic comp 230 anorak and a patagonia nanopuff and a Trew Pow Funk jacket I was toasty in a variety of conditions. I also use it for cold weather running and it wicks moisture and breathes great. I just wore it under a t shirt for a very short hike at mesa verde and it kept me warm when I needed it and didn't smother me when the sun came out or there was a steep uphill. As for the sizing, I am currently 5'8.5 155 but when I got this piece I weighed about 170-175. I got a large and it fit alright then but now I would certainly go with a medium. Overall, great piece and I will purchasing more.
– Dan Wiener
good for running
May 6, 2012
I do like the shirt, however it snags on every little thing that other shirts might not. Could be b/c of the wool. So after 1 long hike, this thing had snags all over it. Just looked like complete crap from 1 single hike that wasn't even that bad. Then I e-mailed stoic.com directly twice about it and they never even got back to me. Their guarantee is a joke. ThEY DON"T E_MAIL YOU BACK. I recommend this shirt for "Casual" outdoors stuff. But anything more rugged and I think it could just get beat up to easily.
– Martin Velazquez
Great gift!
February 13, 2012
I bought this for my nephew for Christmas and although he is a teenager of few words, he really likes it and the matching bottoms. He wears this with a fleece and a shell when he's skiing and seems to be comfortable. He's 5'5" and a slight build and the small fits him pretty well. The kid's tops all seem to be short on him, but this one works.
– KDA
Love it
January 23, 2012
Great base layer. Slight itchy feeling when first putting on, but never notice after that. Keeps me warm and comfortable on a long distance trail run. The thumb holes are key and seem well made (not fraying) like other reviewers have said. Really love this shirt and it makes me want more stoic every time I wear it. Buy it.
– awi5293504
Surprised
January 18, 2012
When I first opened up this thermal i was a little disappointed in how thin it was and how light weight it was. After putting it to use in the WY Tetons, I was shocked and how warm I was and how comfortable it was. It was amazing! I never thought that something so light could keep me so warm!
– cha3937833
Merino Wool...Need I Say More?
January 4, 2012
I picked up this shirt in a large off of SAC and it's definitely another favorite of mine. I used it primarily this past fall while going on hikes and it worked great. Super soft and light which is always great.
– Laurence Wayne Lee
Hey, Who stinks? ....Its not me, I swear!
December 31, 2011
7 ski days later, a few hikes after, I smell less like my friends and more like it did when i got out of a warm shower! These things work great! Super comfortable, even those I wish they made these a little longer fitting so that you can make sure to keep your body totally covered. If your looking for a very affordable and funk free base-layer I definitely recommend these! If you looking for something with a bit more warmth, step up to the 200 weight Merino wool, same comfort just build for those colder days! Now all you have to do is find your size and add it to your cart already....
– Michael Mathews
Great Base
December 29, 2011
My backcountry merino was finally wearing out so I was happy to find a replacement in this base layer. I like the fit and feel of the liter merino, I don't get as hot as quickly and love the thumbholes. The sleeves are long on these, which I like, at 6' 5" I was able to use an XL with sleeve lenght to spare.
– mtruksa
Favorite base layer
December 11, 2011
Great for running, hiking, snowshoeing, and all the above. The merino wool is soft and warm. The thumb holes are nice for keeping hands warm and the sleeves from pushing up. I would definitely recommend it. I'll be getting a couple more soon :)
– Kevin Jantzer
Good not perfect
December 5, 2011
Comfy fabric, great slim fit, solid stitching. The only thing keeping it from 5 stars are the sleeves. Even using the thumb holes there's way too much fabric scrunched up along the arm. Not too much of a functional problem, but aesthetically annoying. Not a big deal if you have a high ape index.
– win5017809
great shirt!
October 19, 2011
so, i got two off SAC and now i wish i'd gotten a 3rd! my bf absolutely LOVES this shirt-- he's worn it climbing many times now & comments on how soft it is (no itchiness). he's 6', about 175lbs. he usually wears an M in patagonia clothing, but i sized up to a L and it fits him perfectly-- not too tight. also, no stinkiness, which is a plus. ;) one more ?-- will the black/black w/ the orange trim be available again? would love to get it for my nephew who goes to clemson!
– lph
Great for fall running!
October 21, 2011
I got this shirt a few weeks ago and I already ordered another one. A lot of people use this for skiing and hiking base layers but I tried it out trail running and it is great, the thumbholes help keep your hands warm and the shirt really wicks away the sweat and was surprisingly not stinky afterward. I ran the Men's Health Urbanathalon (10 mile obstacle course) in the Merino Crew and never got too hot or cold. On top of performing well the shirt looks great too. I am 6'2" and 175lb and a medium fits perfectly, snug but not tight. Definitely a shirt for guys with longer arms too like a lot of the other reviews state.
– jp.3405103
AWESOME
September 9, 2011
So I got one of these shirts, because I always hear how merino wool is so great. MAN IS IT. This thing doesnt smell, even after hours of hiking. I liked it so much that when I saw it on SAC, I got 2 more. I had the stoic Breathe T shirt, long sleeve, and had a problem with the thumb holes starting to frey, but not with this shirt. it's very well constructed, and fits really well on me (5'10" 170lbs and got a Med)
– Jayson Momeyer
Dissapointed
December 19, 2011
Terribly dissapointed. I followed the care instructions to the "t" and it fell apart in 2 months. Pro's: Very warm, nice slim fit. Con's: Fell apart quickly, armpit seems were very uncomfortable, too much money for the quality of the garment.
– Cameron Erwert
Best shirt ever!!!
November 12, 2011
This thing does everything that it claims to. I did 2 training runs and then played a soccer game one week and then just left the shirt in a heap in the corner overnight. I picked it up the next morning in fear, but there was no odor. Brilliant. The soccer game was a brisk night, but even after sweating through the first half, I was kept warm while standing around during a chilly half time. I ran a November mud run which included 2 100m swims in 40-ish degree water. While I suffered while immersed, the shirt did its job getting me back to warmth immediately upon exiting the water. I'm getting 3 of these. 1 for training, 1 for abusing during mud runs, and 1 to keep as a back up.
– timba
Not to shabby
March 7, 2011
I love this shirt. It keeps me cool when it's warm, and it keeps me warm when it is cool. It has a great fit, and I don't have to worry about it stretching out of shape. I am very happy with this shirt. The fabric is a little thin, but I guess that comes with the Merino 150, and not something a little heavier.
– greg brinkman
Great active shirt
September 22, 2011
First thing I noticed when I put this on was the size of the head hole. No kidding, I thought I had ripped the neck by the time I got my head through. Now, once it is on, the head whole keeps you snug and the feel of the wool is super soft and surprisingly warm. The arms are just the right length to hook your thumbs through or pull up and wear like normal. I didn't like the rigid feel of the seams on the forearms, at first. They run down my wrist and felt stiff and a little itchy but, after a few minutes, I completely forgot about the seams and just melted into this shirt, so very comfy and very well built. Just be careful getting into and out of it and enjoy while you wear.
– Cameron Deremer
Fantastic Baselayer
February 4, 2011
Got this on SAC, and I've been wearing it a whole lot this winter. It's soft and light, and fits under pretty much any other layer. It's well constructed, and the flat seams are great under other shirts. Its kind of a slim fit, but I'm very skinny so it works, but there's still some room to move. My only complaint is the hand coverings/thumb loops are really long, but they're still really nice to have, and you can always push them up when you don't need 'em. Overall I love this shirt, and I love the fact that it has a lifetime warrenty!
– Geoff Grzesiak
Perfect Baselayer
January 17, 2011
This is my new go-to baselayer. As soon as payday hits again, I'll be picking up one more. The fit is great, athletic and long, enough to prevent it from riding up underneath all my other layers. I'm 5'10, 185, and the large fits perfectly. Thin, light, and warm, this baselayer performs as it claims. I can wear it days in a row as my baselayer at the slopes, with not a foul scent anywhere (though Stoic does suggest to wash often for best performance). I haven't had a chance to try this by itself, but I'm stoked about having the option to use this unusually stylish shirt as a lightweight hiking shirt.
– Joe Iacono
Great Long Underwear! Very versatile!
January 14, 2011
I bought this item and the Stoic Merino bottoms for my boyfriend. He absolutely loves them! He says they are so soft and comfortable. He's been wearing the top everywhere, not just for skiing or hiking. He also loves the thumbholes in the sleeves; says they are great for putting layers on over the top. The sleeves never bunch. Can't really speak to how warm they are yet; we haven't had a chance to really test them. My boyfriend is 6'4" and 270 lbs. He has really long arms and torso, and it's so hard to find tops that fit him right. This top is PERFECT! I read other reviews before I bought it that said they run kind of small, so I bought him an XXL. He normally wears XL, but the larger size is perfect (it's not skin tight, but he prefers it that way). And the sleeves are actually long enough! If you want the top a little loose, or you're afraid they'll shrink, I'd go a size bigger than what you normally wear. Highly recommend this item!!! My boyfriend won't take it off!
– coloradogirl55
Favorite baselayer!
January 12, 2011
Breathable, comfortable and good looking. I've had Under Armour and Patagonia baselayers in the past, but this year I thought I'd give Stoic a try and I'll never look back. One of my favorite features are the thumbholes. It gives you that much more warmth and protection from the snow when you stick your hand in your mitt while charging the mountain. Get it!
– Duck
Weird seams in the armpits
December 30, 2010
I really liked this shirt because it had a nice athletic fit on me, good torso and sleeve length and not too baggy (6', 190 lbs with a long torso). However the shirt had seams running right under the armpits. I could have probably ignored it and gotten used to the rubbing of the seams there but I felt it was a pretty stupid design. For the money I would expect a different more comfortable pattern. I guess I'm alone on this one! I thought the material was quite high quality wool and not too itchy. What can you expect? It's not a synthetic. In the end I had to return it because of the armpit seams.
– Tim
So far so good!
December 27, 2010
Just bought the all black in large - I'm 6' and 175-180. I am no longer 20 years old so am not as fond of a really snug fit so the Large fits me fine. I love that the sleeves are plenty long. I wore the shirt for the first time just casually around the house (which we keep cool) I assumed I would need a fleece over it but was comfortable all day. Wore it today under a fleece and very thin wind-breaker for a 5 mile run in 14 degree temps and was very comfortable. I am anxious to see how durable it is.
– tsdisciple1454343
cozy
December 26, 2010
I'm a tall slim female and womens clothing never has long enough arms/torso when the clothes are slim enough to actually fit (i like sleeves to come down past my wrists & like superlong sleeves with thumbholes even better!). the small men's stoic merino crew is a relaxed version of a slim fit for a 5'11" 145 lbs woman and so far i recommend it as warm comfy and well worth the price. was a tad itchy at the seams before the second laundering, but is soft & cozy now. Haven't hit the trails in it yet, but it handles MN winter walks as an underlayer & holds up well in casual travel.
– tov4278389
High Quality
February 12, 2011
I'm 6'2 180 and have the large which fits great. I got this shirt for Xmas from my brother and I didn't take it off for two weeks! It was a great base layer for skiing and I will be living in the shirt during my ACL surgery recovery.
– Matt Swider
sleeves are long
December 14, 2010
i am 5'7" 145 and got a small, the shirt fits great and is super comfy, but the arms are just to long. they hang over my palms, not sure if people like this fit but i do not. other than that a good base layer for sure.
– Joshua J. Moran
nice and comfy, wonderful base layer
January 2, 2011
Picked this up for a self christmas present and am really happy I did. I'm 6'3" and about 230 and the XL is a perfect fit. The thumb holes are a real nice feature since my layering is usually long sleeve base, my redpoint vest and then a soft shell. The inside of sleeves on my main softshell are kind of a brushed material and I've had issues with long sleeve bases getting pulled up and bunching. In addition to the fit, the shirt is just super soft, no itching yet (I'll keep an eye on the seams though, that seems to be everyone elses problem area).
– Bob G.
Great base layer, though a tad itchy
December 16, 2010
Fantastic fit, the XL fits like a proper XL should (in my view). I find a lot of the other thermal brands fit ultra tight in an XL, this fits more like a properly sized XL would. Fit is awesome, keep you warm. My only complaint is that they are a bit itchy on the skin. At first I thought it was the wool ... but on closer inspection I realized that the stiching on the inside where the red stripes are (on the black/red one) are kinda raised and that's the part that's a bit itchy. It's not horrible by any means ... but still something I noticed and kept me from giving 5 starts.
– Bogdan Miliu
Great Underlayer
January 12, 2010
I picked up two of these from SAC and have to say that this is all I wear now. I'm 6'5"/250 with the wingspan of an albatross and am extremely pleased with the XXL fit. The sleeves have a perfect length, and the thumb loops fit perfectly. I use it for area skiing, and hiking/skinning as it breathes well without too much bulk. If you have long arms and are challenged by not having other shirts fit, this one will not disappoint.
– Greg Schroeder
Rid The Stink
December 16, 2010
My old base layer had to be put out to pasture for many reasons, but the main was it just wasn't wicking the sweat / smell anymore. Years of touring, trail running and hiking have lead me to find a great base layer that's fit able, thin and in all warm without the stink. This one does the trick. I'm 5'11" weighing 160 with the medium fitting perfect.
– Colby Gilmore
Warm and Dry!
January 6, 2011
I wore this along with a Stoic Bombshell Shell on a 20 degree shade day at the bird and it kept me comfortable all day. I wasn't toasty warm on the lifts but it was perfect for when I was active and going down the mountain. After getting loads of powder under my shell I thought i would freeze the rest of the day because it melted onto the sweater. not so... it kept me completely dry. I love the thumb loops too. Its makes layering and putting on gloves very easy. I washed this using NikWax wool wash in a top loading washer and dried it out in the drier on low and it had minimal shrinkage (thats what she...). Look forward to using this for years to come. Great job, Stoic.
– Scotty G
Money
November 29, 2011
This top is sweet. No itch, can just wash it, no special treatment. I have worn mtb'n in 70 degree weather under riding shirt and in sub 30 under softshell riding. Worked great both conditions. Highly recommend, can't wait to grab another.
– mle2796950
good shirt at great price!
January 25, 2011
my first merino wool performance clothing! i got it for a good price using the backcountry giftcards they sent out before christmas. regardless, i'm quite happy with it. i wouldn't pay $80 for it, but i'm pretty frugal. i took it for a quick run right out of the bag and it breathes really well. it dries fast and doesn't smell (not that i can smell particularly well anyway). i used it as my baselayer at jay peak this past weekend and it was around (or below) -30C with windchill. along with a windstopper longsleeve half-zip and another polyster/cotton sweater. i had a bc.com stoic shell on top. i felt cold, but not in my core. i got a medium and i'm around 5'-10" 185lbs (basketball build, definitely not slim). i really like the fit. the sleeves are a bit long; but if i use the thumbholes, it's totally fine. looking forward to more merino pieces!
– gabriel.ts2400729
sweet layer
January 13, 2011
this is a great base or mid layer from stoic. thumb loops are a great feature when layering over. used it snowshoeing in Flagstaff yesterday and it did a great job regulating temperature and keeping sweat from accumulating.
– Duncan Tweed
almost, but not.
December 15, 2010
I really liked the look and feel of this piece, until I put it on . . . it was so itchy that I had to remove it after 15minutes. Spoke with the helpful chat line folks, who promised that would disappear with washings, but I don't think it's worth taking the chance when I've never had a similar problem with any of my Icebreaker gear. Sorry guys - keep on trying, but I'm headed back over to Icebreaker for this years base layers...
– emr
Nice baselayer
December 30, 2010
I'm a big fan of merino wool and this stacks up to the competition. Nice and comfy for everyday wear or as a baselayer for cold days on the mountain. I'm 6'0", 165 lbs and ordered a medium which fits great. The sleeves are on the long side but I like it because the sleeves don't tug on you when you have your thumbs through the thumb loops. Plus the sleeves then cover more of your hand if you are running in the shirt on a colder day.
– Tom Pritchard
great baselayer and cool weather trail running shirt
January 31, 2010
super soft, good fit for lanky builds. i'm 6'1" and like the fit of the large. form fitting, but not skin tight. just fold the cuffs up about 3" when you're not using the thumb holes. speaking of thumb holes, i had to send one of these back because one thumb hole was too small to get a thumb through. got a replacement, and both thumb holes work perfectly. i find merino to be really warm, so I have to be careful of not overdressing. they make this shirt in a zip neck version which is better for regulating heat. overall, you can't go wrong with this shirt.
–
Awesome wooly...
January 28, 2010
This is an awesome shirt. I've worn it snowshoeing in both sunny and snowy conditions. Both times, I had just the shirt and a shell on. I've also snow camped and wore just it and some micro fleece bottoms and was plenty warm in a zero degree bag... Great shirt... Thumb-holes are a nice feature as well. Size wise, I am 5'9" with an athletic build @ 177 lbs. The large fits me fine, probably could have gotten away with a medium.
– MoSmith
Nice shirt, long arms
November 12, 2009
This shirt is nice, thin fabric, quite stretchy, tight fitting. Overall I like it. The chest measurements might run a hair small, but if it is a base layer then it should be snug anyway. The arms are quite long though. The chest is just right for me, and the sleeves extend just past my fingertips. The length doesn't make them particularly uncomfortable or anything, they are just long. Overall happy with the purchase at the SAC price.
– Matt Nelson
Bought 3, Like'm
January 18, 2010
These babies look good, feel good, and make you smell good. Definitely the thinnest shirts I've ever owned though (comparable to my wife's IB 140 superfine). I use the black/lime as my running/climbing top in warmer weather(10 deg celsius+). However, the white of the orange/white and pool/white is a bit see through so use them only as a base layer unless you're prepared to have your nipples, tattoos etc seen by all after a little bit of sweating. As mentioned by everyone else these shirts are designed for the tall, slim and gangly.
– ter3471669
Holes
January 4, 2010
I recently purchased this shirt a month and a half ago and it has started falling apart. I followed all the care and wash instructions as well.
– Ian Stotesbury
Holes
January 4, 2010
I recently purchased this shirt a month and a half ago and it has started falling apart. I followed all the care and wash instructions as well.
– Ian Stotesbury
Great for the gangly crowd
January 3, 2010
I'm skinny 6'0" with a long torso and the medium is great. Waist is just the right length. The sleeves bunch a tad if I don't use the thumb loops. No surprise there. For skiing I tuck the sleeves under my glove liners with the loops on, and they are perfect, no extra fabric. Stays dry, warm, and keeps me from stinking after a couple days wear. The reflective logo print peels off in a hurry though.
– dashoe
Sleeves too long, price too much.
December 22, 2009
My arms are usually a tad bit too long for the clothes I wear, but I find myself really wishing this piece had arms an inch shorter. I bought it on SAC for half off, so it wasn't worth paying the shipping for returning. It makes a decent baselayer by itself in cool temperatures, but I won't wear it underneath anything other than a shell, simply because I can't stand the sleeves bunching. Yes, the thumbloops theoretically reduce bunching, but the sleeves are really long, and I usually wear an icebreaker sweater with thumbloops as my second layer, and two thumbloops is just unacceptable. I'm thinking of wetting just the sleeves and throwing it in the dryer to shrink them a bit, so if I do that I'll let you know how that goes... Other than that, back to my old polypro.
– she3394542
Awesome shirt
December 22, 2009
I got the black/lime and it feels great, I wear it all the time for skiing and just chilling at home. No stitching/quality issues whatsoever. Highly recommend!
– Jon McLaughlin
Not bad ...
December 1, 2009
I just received my Stoic merino crew yesterday and put it on as soon as it arrived. It's not bad, not great, but not too bad. It is soft, not plush like polartech next to skin but then again the fabric is much thinner. As advertised, does not itch at all. The color is misleading on the computer (as are most pictures). The pool/white is more aqua/creme. The white isn't a bright white but more of a dirty, creme color, which is okay, easier to keep clean. I'm not in love w/ the look, but it isn't bad. The sleeves are crazy long, okay if you plan on using them for running since the thumb holes will add some warmth for your hands but for casual use are a bit of an eye sore and a nusance (you'll have to roll them up). The fit okay. I'm 5'6 135lbs, 36 chest and the small fits snug, slightly tight but not restrictive or too tight around the chest as other reviewers have stated. You will have some nipplage (only looks good on girls) since the material is thin and if it's cold. It insulates fairly well as a baselayer but will not protect you from wind (wasn't designed for that). In 40 degrees w/ a wind breaker it was adequate (a bit cold but I was only standing). If used for aerobic activites it would do quite well. Wasn't able to use it for outside runs since I broke my toe but did take it to the gym for a 40 min cycle session. It wicks well, as well as my Capilene if not better and dries as good if not better than the synthetic polypro. It wicks moisture quite well, better than polypro when you first start to sweat, but when you've reached a full out sweat, it'll soak through just like polypro. It took about 10 - 15 mins to completely dry out. Although it didn't smell afterwards and is able to fight odors it did smell when I was sweating out. The best I can describe the smell is burnt wool. As I stated I wore it straight out of the bag and didn't wash it prior to using, so that may have been a factor. All in all, not a bad piece. Truth be told I expected a little more. Aside from the odor fighting abilities and the slight advantage it had over wicking moisture it's not much better than my synthetic Capiliene. I bought it on sale at SAC so I'm satisified w/ it but wouldn't have bought it for full price. I haven't taken it running yet so maybe my view will change. It is a good base layer, will keep you warm, wicks and dries well and doesn't smell. But it costs more than synthetics and probably won't last as long. To each his own ...
– jsung
Pretty good shirt
December 7, 2009
The material this shirt is made from is amazing, very soft and comfortable. The shirt fits well, but I have very long arms for my height and the sleeves are even too long for me. The sleeves could also be smaller in diameter. The thumb holes seemed like a good idea at the time but I'm not they're really all that useful. I'm just glad I bought it on Steep & Cheap and didn't pay full price.
– Gerry Rhoades
soooo comfy
November 23, 2009
This shirt sits perfectly up against your skin and feels so soft. I wear it all day long and never want to take it off. I'm 6'2" 200 lbs and the Large was dead on. if you want a warm underlayer that won't leave you itching or restricted, this is the way to go.
– cade
My every night shirt!
January 30, 2010
I originally purchased two of the backcountry crew versions and fell in love with them. Then I purchased two of the half zip versions and have been alternating them between me and my girl friend's place. Then I got some of the stoic versions and love them all so much! The stoic versions fit just the same as the backcountry versions. They keep in loads of heat, breath well, and are super comfy to sleep in. Not to mention they dont smell after a few weeks of wear!
– Todd Bohannon
Great layering shirt
November 18, 2009
Bought this for my bf who works outside in freezing temps and wind. He loves the softness and the warmth and the ease of layering. We'll use it backpacking too - he wants me to order him some more! Great buy - fits true to size for him.
– Julie Gallaway
Thin to win
November 18, 2009
I have been on a few runs with this shirt so far in around 38-42 degree weather and it is just perfect! I thought, like some of the reviews, that the armpits were a little snug but otherwise the Large fit me perfectly (5'11" 210 lbs 45.5" chest) I am definitely going to buy a few more of these for my early morning runs, probably in Large because I didn't notice the armpits while running (and not thinking about it). If you are muscular and think it would annoy you size up, but be warned the sleeves will be very long.
– Conrad
Excellent, two suggestions
November 12, 2009
6'0", 130 lbs, medium is perfect (although w/ thumbs in holes the sleeves would ideally be ~1 cm longer) 1. When my thumbs are in the holes, the sleeve seam runs right across my elbow. Since the thread is not nearly as nice as the wool, this is noticeable and uncomfortable with the friction caused by bending my arm. However, this is only a problem if you use the thumbholes; otherwise, you can simply rotate the seam away from the elbow. 2. The thumbholes are slightly too small for my thumbs. Seems like it wouldn't be all that bad to have slightly larger holes, even if your thumbs weren't that big.
– Eric Johnson
Love this shirt!
November 11, 2009
I am 6'6" with a 48" chest and I went with an XXL--I am glad that I did. It has a nice athletic fit, without being skin tight which is what I wanted. The body is a great length, and the arms are even long on me (which I like)! If you are familiar with the Backcountry.com long-sleeve merino crew shirts, you will be happy to know that the thumb-holes are usable, and in the correct spot. Finally, the weight. I would estimate the weight to be about 120g/m2 (maybe 140g/m2 at the most). It feels about the same weight as the Backcountry.com short-sleeve merino shirts or a SmartWool microweight. The merino soft, and of good quality.
– Darksider
Amazing Shirt
November 16, 2009
I read the reviews and wanted it to feel/look more like a shirt so i bumped up to an XXL at 6'2 230 and honestly i absolutely love the fit of the shirt. The arms are only just a tad long, even at a bumped size, but comfort/feel is not affected at all by this and they fully stay up on my wrist. But, to me, this makes using the thumb holes even more relaxed and comfortable. At the S&C price this shirt is the best 30 bucks you can spend. Even at $60 its cheaper and imo softer/more durable than any of the other merino shirts. Oh yea, and its made in canada.
– JEFF F
Snug Armpits - Size up
November 6, 2009
Great shirt, nice soft wool, appears to be constructed very well and the cut is nice. The sizing chart seems accurate enough, but if your chest is on the upper end of a size, I would recommend going up to the next size. I'm 6'3"and a very athletic 200lbs and I should have sized up to an XL. The large is a little snug under the armpits, not even really annoying, but just not perfect.
– Matthew Meyer
very nice
November 6, 2009
Wasn't sure what this would be like when I bought it on SAC - no reviews were up yet - but I am pleasantly surprised. The wool feels awesome. It's comparable to the Smartwool Microweight crew, but the Stoic feels much smoother. And it has a tail and thumbholes too! XL fit me nicely, though the sleeves were a big long (I'm 5'10" - 220 - 46S blazer, so sleeves are :always: too long).
– AlexJ
Sweet layer!
November 4, 2009
Got two of these on SAC too for half the price. I'm 6'3" and weight 172lbs: M fits perfectly. They are very comfortable, long sleeves with nice thumb holes, good length looks awesome. I am definitely going to use them for snowboarding and climbing this winter. Merino wool is the bomb and keep your nasty smells away from your peers :)
– Christophe
Who's got long arms
November 5, 2009
I'm 6'4" and 210 lbs. I got the XXL in black and red and love them both. I up sized a bit from the chart intentionally and the shirts fit long enough for my 6'6" wingspan and are a perfect athletic fit. The XL would have fit as well, I'm sure, but would have been skin tight and I was looking for a shirt that I could wear and not look like a complete meathead.
– Jeremy Cauwels
Great shirt!
November 2, 2009
Finally a shirt with a great athletic cut that doesn't restrict movement at all. I got mine from Steep and Cheap for half the price and I plan on buying another one. I'm 5'10", 170, athletic body, and medium fits me perfectly - tighter than on the BC model who looks malnourished by the way.. What I like the most is the generous length and the extra long sleeves with thumb holes. The shirt is paper thin, very comfortable and doesn't itch at all. Made in Canada!
– Marian
Monkey arms
November 16, 2009
Like others have said, the arms are loooooooooong. Quality of the wool seems nice but the arm length is a deal breaker.
– ZipMTB
Made in Canada!!!
November 25, 2009
Enough said or what? I'm 6'3" and 190#, got a large, works great as an undershirt. If I wasn't getting fat I wouldn't mind wearing it alone, but I just thow a t-shirt or other layers over the top and I'm happy. I have long monkey arms, and have loved the fit of the BC.com items i've purchased, I hope they don't switch over to being all "Stoic" it's a great state of mind, but I'll dearly miss the mountain goat...
– Antonio Serracino
great shirt
December 14, 2009
love this base layer...I use it on my commute to work. The arms are long but that does not bother me...I like the thumb holes. Would like to buy some more of these..I picked mine up on SAC.
– handydaj2066099
Backcountry.com brand is now Stoic
November 7, 2009
For those who have purchased and loved BC's house-brand merino wool shirts, you'll recognize this as virtually the same sizing and feel as before. Very soft and not itchy at all. I'm almost 6'2", 180 lbs, athletic build and the large fits great. These would also work great for tall, skinny people if you don't want to use the thumbholes.
– Jayhawkai
Merino Crew Shirt... thumb holes not my thing
December 31, 2009
The material seemed a bit thin (I am sure it would have done the trick to keep you warm)and sleaves with thumb holes was not really what I was looking for (using as a base layer for skiing). I returned the item although the sizing of large was perfect ( I am 6'1" and 195 lbs with athletic build).
– gms3084275
Can't complain
December 23, 2009
I got the black/lime in a LARGE. I'm 6'2" and about 220lbs. Fits SLIM, which is just the way I want it. But not too slim, can definitely still wear as a casual shirt, and easily as a base for skiing or anything outside. Wicks really well. Downsides? No issues with the fabric or stitching yet, but both feel a little sketchy. Also, I have long monkey arms and these sleeves are still longer than what I need. Overall, a good choice!
– Jon McLaughlin
Very Naise
December 22, 2009
This is my first merino wool base and so far I love it. I am 6 foot and 175# and got the large. It is a good fit though I could have gone with a medium. I like the color of the orange and so I bought the pool blue and they look really nice. The arm length is also really good. It has the thumb holes so that you don't have to worry about cold wrists when you tomahawk down a chute. The only con about it is that I wish it was just a bit thicker. This base has been a constant choice in my outdoor pursuits thus far and it ought to be yours as well. Who wants to smell after a half season of riding?
– Ethan Hill
Great Quality but Tight Fitting
November 9, 2009
I am at 5'11", 185lbs, and a 44" chest, and I find the large is tight under the armpits and around the shoulder blades. I think it's going to be a bit annoying during a full day of wearing this shirt. I really like the quality and would classify it as "very lightweight". I would have to say the sizing chart is meant to be for a tight, close to the skin fit. Great fitting cut if you don't have broad shoulders.
– Gregory Stamey
Great layer for skiing
December 19, 2009
Top-notch comfort, fit, doesn't itch, and keeps me dry. I bought it for skiing so the long sleeves and holes in the sleeves are awesome. Its very thin so it makes for a perfect base layer.
– jdo3420976
Great bargain merino
September 26, 2011
I got bitten by the merino bug hardcore last winter, and now can't imagine other base layers. This piece by far and away wins the bang for your buck award in my book, especially if you pick it up on sale on SAC. It shares all the normal merino qualities: moves moisture well, dries quickly (although not as quickly as synthetic) and doesn't stink, and at roughly half the price of some of the others. The downside? Not quite as soft as Icebreaker or Smartwool, but not rough by any means. Edit: I'm 6'1", 170lbs, with a +2" ape factor, and the medium fits me great as a base layer. Snug without being constricting.
– Stephen Yutzy
Stoic Merino Crew Shirt
November 19, 2009
I love my Stoic Merino Crew Shirt - it's crazy soft and fits me perfectly in a M at 5'11" and 175 lbs. I've had it out a bit and it does everything a merino baselayer should (wicks vapor and doesn't stink).
– Mark Parrett
love it
February 2, 2011
monkey grips.... very thin warm baselayer feels good for wool... great color design. my new go to baselayer
– millermattheww2240346