DC PBJ Snowboard
Meaner than a Catholic high school principal.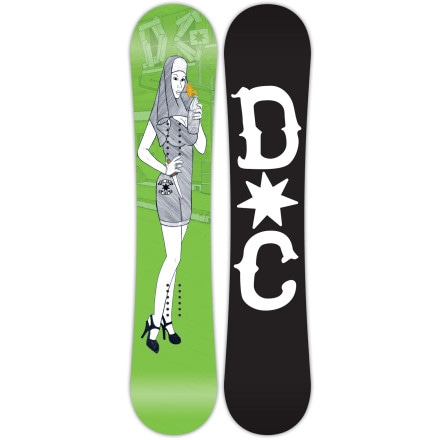 Quantity Remaining:
4
Time Remaining:
Description
The DC PBJ Snowboard may have built a name for itself as The Park Board for Jibbing, but it's been upgraded this year with traditional camber to help you tackle the rest of the park, too. The added pop and stability will help you handle bigger jumps without sacrificing the buttery flex that made it so good for rail domination in the first place.
Traditional camber gives it the pop and power to help you hold an edge at high speeds and boost big ollies, while biax fiberglass and an Astro core keeps the feel buttery so you can still get down with the best of them through the rail section of the park. Speaking of rails, a three-degree bevel on the edges means catch-free boardslides right out of the plastic. And since you're going to be putting a hurting on this thing when you're lapping the park, it has an extruded base that can easily be repaired when you get the occasional scratch or ding.

Traditional camber
Twin shape
Biax fiberglass
Astro wood composite core
True extruded base
Three-degree edge bevel
Tech Specs
Length
137 cm, 144 cm, 149 cm, 153 cm, 157 cm
Camber
traditional
Shape
twin
Flex
medium (5 of 10 on DC's scale)
Effective Edge
[137cm] 980 mm; [144cm] 1060 mm; [149cm] 1090 mm; [153cm] 1110 mm; [157cm] 1130 mm
Waist Width
[137cm] 232 mm; [144cm] 246 mm; [149cm] 248 mm; [153cm] 250 mm; [157cm] 251 mm
Sidecut Radius
[137cm] 6.4 m; [144cm] 6.5 m; [149cm] 6.7 m; [153cm] 6.9 m; [157cm] 7.1 m
Stance Width
[137cm] 17 - 21.5 in; [144cm] 19 - 23.5 in; [149cm] 20 - 24.5 in; [153, 157cm] 20.5 - 25 in
Stance Setback
centered
Core
Astro (wood composite)
Base
extruded
Recommended Use
freestyle, park
Manufacturer Warranty
1 year
Sizing Chart
Snowboards
General Sizing Recommendations
Rider Weight
Freeride
Freestyle
up to 70lb
32kg
up to 134cm
up to 129cm
80lb
36kg
137cm
132cm
90lb
41kg
140cm
135cm
100lb
45kg
143cm
138cm
110lb
50kg
146cm
141cm
120lb
54kg
149cm
144cm
130lb
59kg
152cm
147cm
140lb
64kg
155cm
150cm
150lb
68kg
158cm
153cm
160lb
73kg
161cm
156cm
170lb
77kg
162cm
157cm
180lb
82kg
163cm
158cm
190lb
86kg
164cm
159cm
200lb
91kg
165cm
160cm
210lb
95kg
166cm
161cm
220lb
100kg
167cm
162cm
How to Measure:

This sizing chart is meant as a guide only to help you determine the right length of board for you. Board length is very much a personal preference.
You may wish to downsize a few centimeters if you are a beginner, or upsize if you primarily ride powder.