DAKINE Over Under 49L Carry-On Bag - 3000cu in
A split personality and it expands its storage to gobble up all your expensive gear? Sounds like an ex.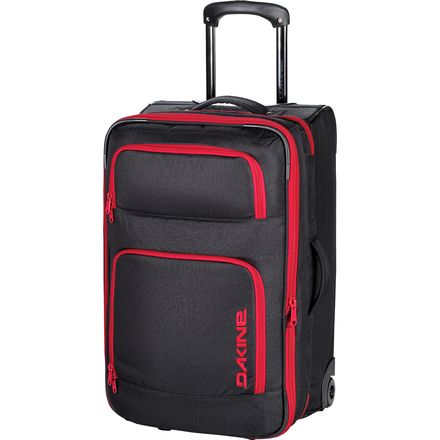 Quantity Remaining:
5
Time Remaining:
Description
You already separated the DAKINE Over Under Rolling Gear Bag so that it'll fit in the overhead compartment, but now you have all these duty-free goodies that you bought during your layover. Never fear, just use this bag's expandable compartment and gain 900 cubic-inches of storage quickly. Whew ... that was a close one, but not as close as your next flight is going to be when you land. Just grab the Over Under's retractable handle, set the urethane wheels on the ground, and sprint to the next gate just in time to make your final connection to Kazakhstan.
Tech Specs
| | | | |
| --- | --- | --- | --- |
| Material | 100% polyester (600D) | Volume | standard 3,000 cu in, expanded 3,900 cu in |
| Rolling | no, >45 linear in | Pockets | 2 external |
| Dimensions | [standard] 23 x 14 x 13.5 in; [expanded] 23 x 14 x 16.5 in | Claimed Weight | 7 lb 12 oz |
| Recommended Use | travel | Manufacturer Warranty | lifetime |
Reviews
Quality
August 3, 2012
Quality gear bag
– koreanscott69
Too big for carry on, and tips over
July 13, 2012
While the bag looks cool, and handles pretty well, it is too big for carry on. Several times, on different airlines, I have been forced to check the bag at the gate because they say the bag is too big. When stuffed full, even without the expander zipper open, I've had to forcibly shove the bag into the overhead. Also, the bag tips over forwards very, very easily.
– mtollhouse2312404
Great bag! I didn't know what I was missing!
February 8, 2012
I was driving cross country from South Dakota to California to go take care of my dad, who was in the hospital in Newport Beach. It was a two day drive, and I stayed the layover night in Breckenridge, CO at a buddy's house. I vaguely remembered a store in Breck that carried luggage, and found the store, and this bag! My only regret was I was crunched for time, and didn't buy it off of Backcountry.com! This bag is great! I WAS using my firefighter turnout bag previously when I went on trips. Boy, I didn't know what I was missing with being organized, and being able to find my things quickly! The compartments in this bag are great. They keep things really organized. I was able to fit a weeks worth of clothes in there, along with my toiletry bag, cell phone charger, reciepts from the trip, etc. I purchased this in the Phantom colorway, and I love it. I like this bag so much, as soon as I got home, I ordered the matching Groomer bag, and plan on buying the matching board bag and bigger suitcase from backcountry.com when I can! You can't go wrong with Dakine products! Buy this! You won't regret it!
– Jon Valentine
best bag EVER
December 14, 2010
I am a flight attendant and have been for 35+ years and this is by far the best bag I have ever owned.....it will hold everything....I fly international so I need a lot of clothes and need to have room for treats to bring home, so this is the one......and it is squishy so it fits even when it looks like there is no way!!!!!!!!!!!!!! And the best part it is light weight.....this is the BEST !!!!
– Peggy
Perfect carryon
February 25, 2012
This bag is the perfect carry-on for airplanes. With this I have been able to bring everything I need for weekend business trip to a weeklong ski trip (When combined with the Hi Roller from Dakine). The Over-Under is the work horse of my luggage doing double and triple duty covering everything from vacations, to work trips to weekends at the in laws. The expandable feature adds a considerable amount of space and although most airlines wont allow it expanded during the check-in process, it has come in handy many times when moving from resort to resort or weekend car trips. I have flown with this bag over 20 times and NEVER have I had a problem having it allowed as a carry-on when not expanded, even if it is stuffed to the brim. The wheels are durable and the handle is a comfortable height. If you are getting one bag for travel to pair with a ski or snowboard bag...this is it.
– Luke Shelley