Patagonia Better Sweater Fleece Jacket - Men's
For anything that occupies your day.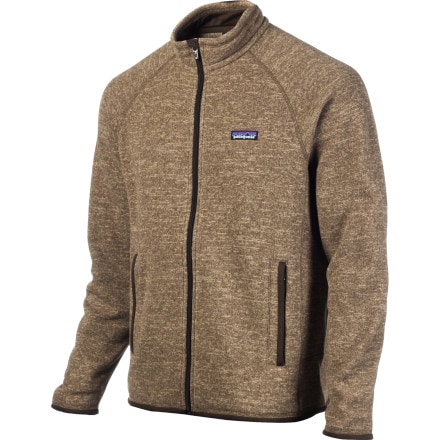 Quantity Remaining:
13
Time Remaining:
Description
Patagonia couldn't have picked a better name for the Men's Better Sweater Fleece Jacket. After one day in the Better, you'll probably throw out your cotton sweatshirt. After all, why would you wear fleece every day in the mountains and then go back to cotton in town? Despite the casual cut and style, this soft Patagonia fleece easily makes the cut for technical wear. Midweight fleece makes this piece ideal as both a mid-layer and a casual around-town top.
Tech Specs
| | | | |
| --- | --- | --- | --- |
| Material | polyester fleece | Fit | regular |
| Pockets | 2 front | Claimed Weight | 16.4 oz |
| Recommended Use | casual wear | Manufacturer Warranty | lifetime |
Sizing Chart
Patagonia
Men's Outerwear & Apparel
XS
S
M
L
XL
XXL
Chest
34 - 35in
(86 - 89cm)
36 - 38in
(91.5 - 96.5cm)
39 - 41in
(99 - 104cm)
42 - 44in
(107 - 112cm)
45 - 47in
(114 - 119cm)
48 - 50in
(122 - 127cm)
Neck
14 - 14.5in
(35.5 - 37cm)
15 - 15.5in
(38 - 39cm)
15.5 - 16in
(39 - 40.5cm)
16.5 - 17in
(42 - 43cm)
17 - 17.5in
(43 - 44.5cm)
17.5 - 18in
(44.5 - 45.75cm)
Sleeve
32in
(81cm)
33in
(84cm)
34in
(86cm)
35in
(89cm)
36in
(91.5cm)
37in
(94cm)
Waist
28in
(71cm)
29 - 30in
(73.5 - 76cm)
31 - 33in
(79 - 84cm)
34 - 36in
(86 - 91.5cm)
38in
(96.5cm)
40 - 42in
(101.5 - 107cm)
Inseam
31in
(79cm)
31in
(79cm)
32in
(81cm)
33in
(84cm)
33in
(84cm)
33in
(84cm)
Women's
Size
Conversion
4 - 6
8 - 10
12 - 14
14 - 16
Formfitting: Conforms to the body's contours.
Slim Fit: Closer fitting. Slim-fitting technical garments may be worn over baselayers and light midlayers.
Regular Fit: Neither slim nor oversized. Regular-fitting technical garments may be worn over heavier midlayers. Men's regular fit pants have a slimmer fit through the thigh, lower leg, and cuff.
Relaxed Fit: Drapes loosely on the body. Men's relaxed fit pants have a bit of extra room through the hip, thigh, lower leg, and cuff.
How to Measure:

Measurements refer to body size, not garment dimensions. For best results, take measurements over your underwear.

Chest:

Measure under your arms, around the fullest part of your chest.

Waist:

Measure around your natural waistline, keeping the tape a bit loose.

Inseam:

Inseam varies depending on style; when lengths are offered "regular" is 32in (81cm) and "long" is 34in (86cm) unless otherwise noted. Using pants that fit well, measure the crotch seam to the bottom of the leg.

Sleeve:

Measure from the center of your back to your wrist with arms held out.
Reviews
Narrow Comfort Range
March 31, 2012
I was looking for an all around jacket that I could wear in town, and I bought this because I liked the finish. However it is way too susceptible to wind, even a slight breeze. If you hold it up to the light you can almost see through it. A little too warm indoors also. I didn't try it under a shell, I'm sure there are conditions where it works well. But in general it's not very versatile.
– Crash
Patagonia Better Sweater a great fleece for semi-cold winter days
June 1, 2012
This is a really comfortable fleece and surprisingly warm. I found myself wearing it often in winter since it's just an easy and good looking jacket you can wear everyday. Really soft and not itchy.
– Jeremy Curtis
Great for casual use
May 17, 2012
This has become my go-to jacket for spring or fall days without a lot of wind. It's surprisingly warm, very soft and comfortable, and looks great. You get all the comfort of a hoody, but it looks much nicer. The sleeves do run a bit long--but they weren't too long by any means (personally my arms are a bit long too, so it works well for me). I have not tested it under any highly adventurous conditions, but I would definitely recommend it for casual use.
– jrw
Better Than a Sweater
March 1, 2012
Much better than a sweater as it is warmer. Great looks too. I have two of them.
– trail.oldtimer
Excellent winter jacket
January 13, 2012
For all those who need something warm but light this is the right jacket. Great for the high desert mornings and light enough to wear through a winter's afternoon without shedding layers, Will keep you warm but not sweaty all afternoon - buy one!
– mks4213137
Better than a pet llama
June 18, 2011
This sweater is perfect for home/office/backcountry. I've used it as an outerlayer with just a tshirt down to around the mid 40s keeping me warm cozy all the way, while stil being breathable enough to cope with the changes between outdoors and office central heating/aircon. I'm 5'11, 170lb, 30waist 40 chest and the medium fits perfectly. The fabric is luxuriously soft inside while also having a beautiful durable knitted look outside. The sweater has lasted me an full year of use down the pub, climbing, canyoning and caving... although it does tend to stretch over time with too many drinks being carried past bouncers in the handy inside pockets, and is unfortunately not fireproof... went into cave... torch started going out.. whirled torch around to get some oxgyen in the flame and enough light to get out of a dark situation... upon finding daylight I also discovered multiple holes all over my favorite sweater from the bits of ash coming off the torch... Will get 2 this time incase I'm attacked by flaming bees or something in the future.
– Icesharp
Better Sweater
March 12, 2011
Nice sweater, wish I could have found the 1/4 zip on-sale, but this is pretty darn comfy, and looks killer when you have it on.
– Jayson Momeyer
excellent fleece
July 22, 2012
It's great. The fleece tailored better to fit me well, the color is also great. It can provide incredible warm. Hope to wear it ASAP.
– 1855664758
"Best Sweater"
January 7, 2011
This really is a "better sweater." It is lightweight, warm, well cut, and surprisingly durable. It is perfect for just about any situation: lounging around the house, jogging, errands around town, even layering under a shell for cold weather mountaineering. This thing is the most versatile and long lasting mid-layer that I own. If $130 seems a bit much for a polyester sweater, consider the ¼ zip version. It is significantly cheaper and just as amazing (plus it has a handy chest pocket). However, as with all ¼ zip tops, it can be a little tricky to get on and off. Once it's on though, no need to worry! Pros: Super comfortable, warm, durable, versatile, and good looking. Cons: Price (although it's worth every penny), not very compressible for those who need every square inch of their pack, not very wind resistant (layering solves this issue). Overall: A mid-layer you can wear on the mountain, at the bar, and around the house. Why not?
– Duncan Poling
Get two
December 21, 2010
I've got two better sweaters, one 1/4 zip and one full zip, and really like both. The reason I have two is because my wife stole the 1/4 zip and wears it a lot I wear this one around town and to work a lot because it looks nice enough while still being super comfortable and warm as well; basically it's just really versatile Great piece from Patagona, especially when it's on sale
– sreeves324
What the name says
November 15, 2010
Just like the name says, this is a better sweater -- warmer, more durable, not itchy like wool. Nothing exciting here, just a jacket that you find yourself wearing all the time. Cut is on the slim side, without being tight. M worked perfectly for me at 5'11", 160 lbs.Unlike other reviewer, I like the full zipper, which makes garment easier to get on and off and allows more ventilation. Looks good in an understated, unobtrusive way. About the only thing I'd change would be to add a little more color variation to fabric. The brown, at least, seems a little monochromatic.
– Dominick Layfield
should have had the 1/4 zip
October 19, 2010
sorry BC, i wanted to buy another 1/4 zip but unfortunately you don't carry it... had to go elsewhere to buy one. you should really get on that, its a terrific piece. i gave 5 stars for the better sweater, but i would give BC 1 star for not having it, somewhat frustrating that i have to give someone else my business...
– kris
I love this jacket
December 24, 2011
I love this jacket. I am 5' 10" 170 lbs and medium build and the medium fits perfectly. Not as fitted as it seems in the pictures but I love it anyway. I'm planning on buying at least two more. Highly recommended.
– Operation Ivy
Great fitting!!!
May 8, 2012
Lightweight buys provides incredible warm. Great looking as well.
– Grey Maverick