Nixon Small Player Watch - Women's
For the player in you.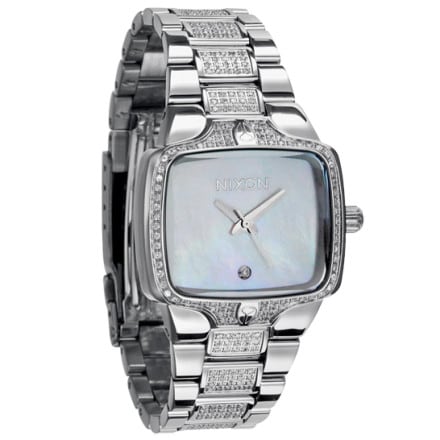 Quantity Remaining:
2
Time Remaining:
Description
Play your games in style and on time with the Nixon Women's Small Player Watch. With a real diamond that makes this precious watch a new best friend, and a two-tone stainless steel band to prove that you have more style than the mean girls on your block, the Nixon Small Player Watch can stand the envy.
Double-gasket crown, hardened crystal, and three-hand Japanese quartz movement ensure function and durability
All Gold version features a 23k gold coating
All Black version is coated with titanium carbide
Tech Specs
| | | | |
| --- | --- | --- | --- |
| Housing Material | stainless steel | Strap Material | stainless steel |
| Heart Rate Monitor | no | Digital Compass | no |
| Chronograph | no | Backlight | no |
| Computer Compatible | no | Water-Resistant | yes, 100m |
| Weekday Indicator | no | Face Size | 33 mm |
| Recommended Use | casual | Manufacturer Warranty | 2 years |
Reviews
Love it!!
May 2, 2012
I have had the small player in all black for about six months now and it still looks new, nice weight and size for a women deffinately sized down from the mens player so it doesn't look ridiculously huge on! Can wear it dressed up or as an everyday piece for work!
– bau4468935
Looks great but...
May 9, 2011
I am a small person and this watch is really heavy on my arm. I love it (silver with pink face) but my goodness it weighs my arm down so much I rarely wear it.
– Rachael
Nixon small player
April 20, 2007
Got it as a present for my girlfriend. I've owned the original player for over a year and wear it every day. It is scratched up but it still in good condition. The 2 stage locking clasp ensures it won't fall off. Nice job with the mother of pearl.
– mikeniblett
Love the Small Player
September 25, 2009
I have had a small player for over eight years. My first one was the stainless with the gold face, and I recently purchased the stainless with the blue face. I absolutely love my second one as much as first. I hightly recommend getting this watch, it is perfect in everyway imaginable!
– acm3265009
i want another one!
February 2, 2010
i have the small player in the black/mint green, and i love it so much i want another one in a different color. it's nice and heavy on my wrist and looks stylish with everything.
– rosiebug792408771
Review Title
July 25, 2009
This watch is as steezy as they come! It is a guaranteed eye catcher! If you got some extra CHA-CHING layin around dont heisitate to drop it on this!
– McSteezzy
Shiny!
November 7, 2008
I love this watch. I've got the silver with the multi-colored striped face and it is so cool looking. I wear it pretty much every day and I find it the perfect weight and size. This is my idea of a perfect watch.
– Allegra
:)
January 8, 2008
Great watch, it take some time to get used to the weight of it but in the end its all worth it.
– Van Hess
Love it
February 15, 2006
It's the prettiest I've ever seen. I have it in the mother of pearl face, which is slightly less iridescent than I'd hoped, but it's still gorgeous. So far it seems to be holding up extremely well, despite reckless treatment. If I'm lucky, I'll never need to buy another watch, unless I can afford to get the black mother of pearl one too.
– live outside
Sarah LIKIE likie
September 6, 2006
Sweet watch...it was like gasoline and matches! The gf loved. If you will excuse me I must get back to carving Brad Pitt figurines out of soap. Peace out dog. aloha, pat h
– pat h btches
watch
May 15, 2007
i really like the small player watch, but there is a small issue. the pin holding the watch together falls out.. i hate tried fixing it. and its too much of a hassle to return. but it's a really nice watch
– Anonymous
Small Player silver
July 22, 2003
This watch is not cool for a start. Whilst things that are cool will fade, this piece of style and elegance will continue for decades. With a sense of beauty on anyone's wrist this is a must buy. Small detail creates and makes this watch shine. Small diamond in the middle...pure genius. Recommended.
– nzandynz
favorite watch
December 27, 2005
I love this watch!! It's definitely my favorite watch that I have. It has a classy look and the clasp has the Nixon symbol, and says Nixon on it. I have the brown/wood face (06 I believe). The diamond in the watch adds a nice touch to it! I also love the band—shinny silver in the middle and a duller silver on the outside, looks sharp!!
– sammyrae
Black on Black
October 31, 2008
I have the black on black small player, and it looks AWESOME! heavier than what I normally wear, but really pimp. Unfortunately, it stopped workin about 3 months in (not a battery issue), but i haven't had it repaired yet. I'm assuming that it's just a bit of a dud, but we'll see. Everyone else seems to love it, and I love the look of it. Totally classic but pimped out.
– poseur
Very nice!
February 8, 2006
I bought this watch outside of this website and it cost me a mint! This is so cheap! Looks very nice and had lots of complements on how much everyone likes it. Good for people with small to medium size wrists.
– .a.
Cute Watch!
April 2, 2007
I love this watch. I wear it with everything and it is a staple accessory.
– frogkicks78
beautiFUL
May 21, 2009
looks great, and i can tell the time even when i am waiting in the line up.
– rco100307494
Review Title
November 20, 2009
I bought this watch four years ago with the light blue face. I've only had to replace the battery once and everything works great. I wear it daily, but you couldn't tell by how well the watch has hold up over the years. I'm thinking about buying the crystal one next.
– Rac3433694
Small Player is sweet
April 10, 2005
A bit heavy to get used to in the beginning, but I got used to it. It looks and feels like a much more expensive watch - very nice!
– dnahvi
Mint!
January 8, 2008
Totally sweet watch. Girlfriend loves it!
– Rhys Taylor
f*ck yea!
March 4, 2009
i wasnt sure if i was going to like the all black with the mint face but i got it in the mail yesterday and i absolutly LOVE IT!!!! its so sleek and modern just great! if your lookin for an everyday watch this is the one for you
– AnkleJulie
can't go wrong
January 28, 2010
you can't go wrong with this watch.
– Ali Stadnik
great watch
November 17, 2003
This is a classy watch and delivery was extremely fast. Very happy with all aspects of this transaction!
– LFLore5