Nixon Enamel Icon Belt - Men's
Become an idol with the Nixon Enamel Icon Belt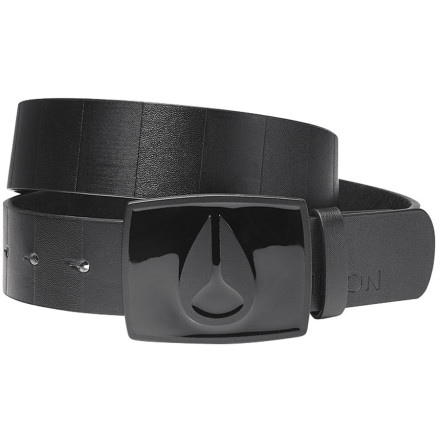 Quantity Remaining:
5
Time Remaining:
Description
The Nixon Men's Enamel Icon Belt continues to be one of the most popular Nixon items for a reasonówe all love it. The durable split-grain leather strap with pig suede backing will look good for years to come. The Nixon Icon Belt's interchangeable custom-cast, single-post buckle allows you get all the buckle options without tossing your perfectly worn-in belt. The custom metal snaps make for quick-and-easy on or off. Nixon pays attention to detail and engraved the brand name on the strap tip
Tech Specs
Material
[buckle] enamel, wood
Buckle Style
1-prong
Width
2.9 in
Recommended Use
casual
Manufacturer Warranty
limited
Sizing Chart
Nixon
Belts
Belts with Prong Holes
XS
S
M
L
Pant Size
24 - 27
27 - 30
30 - 33
33 - 36
Belt Measurement
30.5in
(77.5cm)
32.5in
(82.6cm)
34.5in
(87.6cm)
36.5in
(92.7cm)
Belts with No Prong Holes/More Adjustability
XS/S
M/L
Pant Size
24 - 30
30 - 36
Belt Measurement
39in
(99.1cm)
42in
(106.7cm)
Belts with Cut-To-Fit Option
One Size
Pant Size
24 - 36
Belt Measurement
42in
(106.7cm)
How to Measure:

Measure over waistband of pants. If between sizes, order the larger size.

Belts with Prong Holes:

Belt is measured from buckle fold to center of 4th prong hole. 7 prong holes, 1" apart.

Belts with No Prong Holes/More Adjustability:

Belt is measured from buckle fold to the tip of belt.

Belts with Cut-To-Fit Option:

Belt is measured from buckle fold to the tip of the belt.
Reviews
All Looks
October 25, 2012
This belt is all looks it doesnt hold your pants up that well.
– Trent Pearce
okay
August 14, 2012
i have had this belt for about 4 months and so far the holes for the belt have stretched out and don't hold the belt any more and the outside of the leather has separated from the leather itself
– jes4885849
accurate reviews
July 23, 2012
I'm a 34 waist, everyone said to size up, so I got the large. I fit on the second to the last hole and I plan to lose some of this beer gut, so I got one more hole to work with. Buckle is on the larger size, so if your not into that style, don't get this belt, but its fine to me.
– mah3288705
bartle doo
March 2, 2012
just got a medium one in today (im around size 31,32). fits great, highly recommend this size for around that waist size with leverage either way as others have mentioned. i was kinda tossed between this model and the rotolog but this one is cheaper and has a removable buckle so i decided to take the plunge. the quality of the leather seems legit and im only expecting to wear this belt about every day so ill repost on how it holds up but otherwise its stylish, fits great, and feels true for durability.
– mar5463505
Big Fan
October 26, 2011
Full disclosure - bought it strictly as a golfing belt...otherwise probably wouldn't wear a white belt. Good thickness, buckle is cool, and functions just fine.
– Cole VandenAkker
kewl belt
September 9, 2011
it's a pretty good belt. looks great, but the buckles holes stretch out really fast and the "leather" starts to peel off the main material after a while. good buy but not the best could be better
– Robby Flanks
Nice belt
June 7, 2011
Smooth leather and a cool buckle - great stuff!!
– DEON NORTJE
loved
June 29, 2011
its an awesome belt. great fit, great style. will be ordering NIxon belts from now on.
– chr4544272
Dark Wood
May 5, 2008
I've got this belt and it is absolutely sweet...nice big buckle and good material
– Vit Florian
BAD PICTURE AND SIZING!!!!
September 15, 2010
I got the ALL Black belt. According to the picture the Nixon symbol and outline is gray, but when i got it the complete buckle was black. Also I got a size small, I wear a 28-29 size pant so i though it would work according to the size chart. Well the belt is just a bit too small. Besides these problems which could be fixed the belt is very nice and a great value.
– noa4033290
Belt Review
October 7, 2010
I bought this belt in a size medium about a month ago to find out that it didn't fit my waist too well (I'm a 34-35) so I sent it back and got the next size up (thanks dogfunk). so far I've received about three-score-plus-a-baker's-dozen compliments on it, and it fits well with just about any pair of pants and jeans I own. do yourself a favor and buy one.
– Adrian
Size off!
July 30, 2010
It's a very sick belt overall, but the size chart's off! Just check out the close up pics on the belt, the pics are of a medium belt and the size on it is 32-36. I'm a 32 waist and the small was way too small, big problem there. Get a Med if you wear a 32.
– Jmasta
Sizes are off
April 21, 2012
I just got my Nixon icon belt in the mail that I ordered and it's to small. I got size M because it says it fits waist size 32-36, and it says that on the belt too. I am size 34 and the first hole on the belt is still to small. Im going to have to send it back. You might want to fix the sizing information for this belt.
– han5532743
Review Title
September 14, 2009
Nixon makes sweet belts and this is one of my favorites. The removable belt buckle is a nice feature.
– Erik Roner
cool lookin.
August 17, 2009
this belt looks so cool when your kickin it or skating around. only bad thing is that when i put it on, the belt buckle doesn't quite line up with my fly so it looks crooked. 4/5.
– Anonymous
perfect
November 21, 2008
i got what i wanted and i wear it with everything. it holds up really well and looks awesome.
– patrick burke
great
December 12, 2007
buckle is maybe a tiny bit big but otherwise its great
– neversummer
Nixon Belt
May 12, 2008
This is the sweetest belt ive ever owned, the yellow/blue colourway is sick! and its the most solid construction ever.
– Michael Goodes
Get the right size!
June 24, 2010
Its a very nice belt...just be aware of the sizing. I have a 32 waist, and ordered the Small, and it doesn't fit. I had to return and get the Medium. That's a $7 mistake! Just make sure you get the right size and you'll be straight.
– Moteef
simple and classy
December 14, 2009
Had it for a year. looks almost like new. very durable. good investment. Fits girls just as well as guys.
–
Sick belt
April 16, 2010
This belt is absolutely perfect. I have a 34-36 waist and got the large which is a perfect fit. The red color is a very true vibrant red, and the leather it's made out of feels high quality. If you're thinking about getting this belt, get it. You won't regret it.
– pil3236222
Classic statements
December 17, 2006
a classic, bold emblem blazing. Timeless fashion for the youth nation. The ladies love the class act!
– SkyRider
Awesome
January 6, 2007
Great belt, looks awesome, real sharp. Buckle is removable so you can use different buckles with the belt.
– JKThreeEleven17
cheap belt
July 29, 2008
i got my belt in the mail and the woodgrain on the belt buckle was coming off and the belt feels cheap. hopefully it was just this one belt but beware.
– Anonymous
belt!
July 15, 2009
I just got my fantasy nixon belt and the colors on the belt are brighter then in the picture. Overall its a sick belt and I've had it for months and is still in great condition. Very nice belt worth the money in my opinion.
– scotty
Christmas Gift
January 9, 2007
Other than the fact that I did not get the belt I ordered, I took a chance and wrapped it any ways for my son, and gave him the choice of keeping it or sending it back for the one I ordered. After he looked at your web site, he chose to keep the one that was sent. So for this time, the experience was good. I am not sure how things would have went if I would have had to send it back for the correct belt, but for now my son and I are happy with our experience with this site.
– RFerreira
Awesome!
February 6, 2008
Great belt! I've always been a fan of Nixons stuff. A little unstoked on how they shipped me the wrong color though :(
– MBVW2.8l
danny
August 17, 2008
got the belt i ordered... looks good with pretty much everything and every color. the enamel can scratch reallllyyyy easily tho so be careful.
– patrick burke