Nixon Sentry Leather Watch - Men's
Crisp attention to detail, around the clock.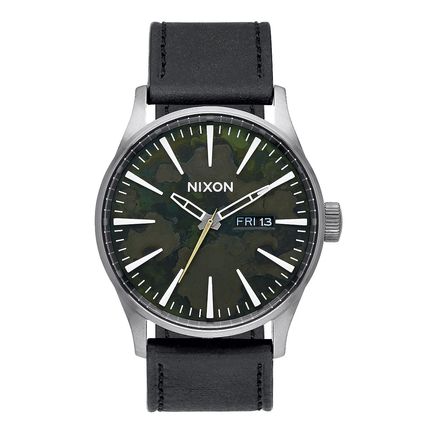 Quantity Remaining:
1
Time Remaining:
Description
The Nixon Men's Sentry Leather Watch keeps a close eye on your time like a taught, sophisticated Roman honor guard. A smooth leather band wraps around your wrist with graceful authority while a stainless steel face stands post over your window of time. Nixon crafted clean lines into this large-sized watch, so you can trust its disciplined style to protect your precious time no matter where the call of duty takes you.
Tech Specs
| | | | |
| --- | --- | --- | --- |
| Housing Material | stainless steel | Strap Material | full-grain leather |
| Face Material | hardened mineral crystal | Movement | Miyota Japanese quartz |
| Date Indicator | yes | Weekday Indicator | yes |
| Submersible | yes , up to 100m, , 10 ATM | Face Size | 42 mm |
| Recommended Use | casual | Manufacturer Warranty | 2 years |
Reviews
Time was never this sexy
May 1, 2013
I am a real fan of the Red/Black and metal. I have always like that color combination. The watch fits well with a large face but not obnoxious.The leather band is comfortable as well.
– Braden
Baller!
January 30, 2012
Got the black and gold... SO SICK!! good sized face on it, so its not HUGE like the 51-30 is or any of those. I actually really like the size of it rather than the big bulky ones. I love the leather strap, rather than chain link cause it keeps it classy, but not too blingin'!
– Mike Larsen
one of my favorite watches
June 20, 2010
very very nice watch with nice styling, the things i love are the the face shape, the hands are really cool and make it so you can see the day/ date through them, and i was lucky enough to get my hands on one of the limited edition sunrise ones where the face goes from dark orange to silver, and the leather they put on them is super soft and high quality. just be sure to get used to the thickness of it, its not bad but i wasn't used to it and i almost slammed it into some walls from moving my arm while walking
– sam addington
Modern Bling
June 25, 2010
Picked up the NIXON Sentry because of it's unique and stylistic face. It's simply just a good looking piece to 'roc' either out cold chill'n or at work. The ONLY dislike with the Sentry is that the Day/Date interface never seems to actually work correctly. It's either a day/date ahead or behind. Why that is the case, I have no idea. Other than that, it's a one of kind look for sure.
– Corey
Great Watch
May 14, 2009
Great looking watch, modern with a classic take. Only thing to take note of is that the face is large, so if you don't have the persona to match than perhaps consider something a little more understated. I think it's fantastic and looks appropriate in the workplace as well as ballin on the weekend. Slap ya momma with that noise!
– klennerc2362582
Well now.
April 28, 2010
I actually ended up purchasing this watch. It's pretty nice and its light-weight. It doesn't feel like you're really wearing it at all. The date display can be set in spanish, which is pretty cool, and I got mad compliments on it...Until I lost it.
– Louis Maldonado
megaboss
September 4, 2012
got this watch in the pinstripe color, i don't see it here now, but they had it a few days ago. it's great. the band is soft, smells good, looks great with the laser cut lines in it, and it fits well and is comfortable. the stainless steel case is baller, slightly brushed, and the white face is so classy. i love this watch, thinking of getting a 3rd sentry to add to my collection...just need some more color options that I love.
– gilipollas
I get it today
March 12, 2012
nice watch...
– wu-5449197