Giro Amulet Goggle - Women's
A good luck charm for your eyes.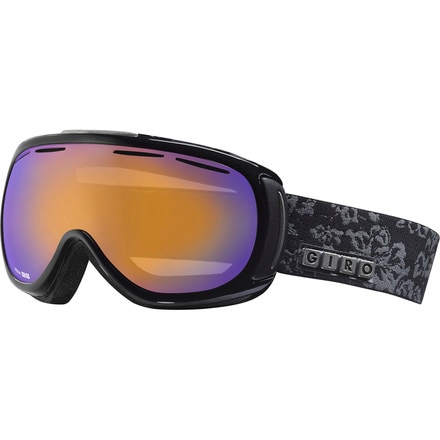 Quantity Remaining:
15
Time Remaining:
Description
The Giro Women's Amulet Goggles keep you looking good and seeing well. The dual spherical lens offers a clear, accurate, and full field of vision so you can dodge abominable snowmen, death cookies, and other slopeside hazards.
Anatomical fit prevents gapping and blind spots
Helmet compatible design makes it easier to stay safe
Vented lenses and an antifog coating keep your vision cloud- and condensation-free
Triple-density face foam seals out the elements and wicks moisture
Tech Specs
| | | | |
| --- | --- | --- | --- |
| Frame Material | polycarbonate | Helmet Compatible | yes |
| Eyeglass Compatible | no | Polarized Lens | no |
| Ventilation | top vents | Face Size | women's medium |
| Recommended Use | skiing, snowmobiling | Manufacturer Warranty | 1 year |
Sizing Chart
Giro Goggles
Lens Tints
FULL SUN
VLT*
LENS INFO
POLARIZED ROSE 17
17%
a rose base tint combined with a polarization filter with an advanced manufacturing technique to deliver exceptional visual acuity with minimal distortion when glare is a concern
GREY COBALT 10
10%
same base tint as the GREY PURPLE tint but hit with a cobalt blue flash
BLACK LIMO 15
15%
a classic grey lens with a deep black mirror treatment that allows true color perception with enhanced definition in very bright conditions
GREY PURPLE 25
25%
this tint is perfect for when the sun is out and there isn't a cloud in sight
MIXED CLOUDS
VLT*
LENS INFO
AMBER PINK 37
37%
an amber base tint is pumped up with a light refining flash coating that glows bright pink--the result is a perfect all day tint
AMBER SCARLET 40
40%
a high-performance amber base tint with multi-layer flash coating that heightens detail and depth perception in variable light conditions
AMBER GOLD 23
23%
Giro's classic amber tint with a gold flash mirror that boosts definition in bright light conditions
ROSE SILVER 30
30%
a rose-based tint that enhances depth perception combined with a single-layer silver flash that tunes light transmission for medium light conditions
AMBER ROSE 40
40%
AMBER ROSE is a perfect all conditions tint--if you had to choose one for every conditions, this would be it
LODEN GREEN 26
26%
the green on green combo is an amazing full sun tint--a bright green flash coating keeps your vision crisp and your style on lock
LODEN YELLOW 20
20%
same green base tint and VLT as our LODEN GREEN lens, but hit with a yellow flash
OVERCAST/STORM
VLT*
LENS INFO
PERSIMMON BLAZE
50%
Giro's performance-tuned proprietary persimmon tint, now with a fiery scarlet flash coating to heighten detail and contrast in low-light conditions
PERSIMMON BOOST
52%
a proprietary tint with multi-layer flash coating that heightens detail and depth perception in low light conditions--this is a great storm tint
PERSIMMON 57
57%
a performance tint that heightens detail and contrast when light is flat
NIGHT
VLT*
LENS INFO
CLEAR
90%
a very high quality clear lens for use at night or in extreme low light conditions
*VLT (VISIBLE LIGHT TRANSMISSION):

THE PERCENTAGE OF AVAILABLE LIGHT ALLOWED TO REACH THE EYE (THE LOWER THE NUMBER, THE DARKER THE LENS)
Reviews
Awesome women's goggle
November 5, 2011
The Amulet is SO awesome--it really fits and flatters a smaller face, IE, for the ladies! Of course it still has all of the high-quality optics that you get from Giro, like the spherical Carl Zeiss lens. I was lucky enough to get to visit the factory in Italy where Carl Zeiss optics makes these lenses, and they do an amazing job of quality and safety testing. You can wear these with pride! Plus they look awesome. :)
– Ingrid Backstrom