XCEL Hawaii 3/2 Offset Zip Wetsuit - Women's
Chilly water, hot surfing.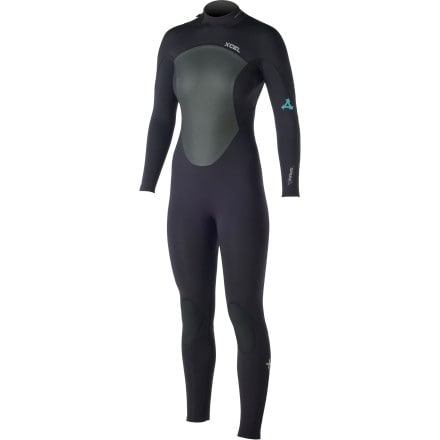 Quantity Remaining:
21
Time Remaining:
Description
Just off the coast of Portland, Maine, August water temperatures hover right around 60 degrees—just the right temperature for you and your Xcel 3/2 Women's Offset Zip Wetsuit to get some wave riding done. Xcel gave this fullsuit a contoured fit that matches the curves of a woman's body, an easy-to-reach offset back zip, and stretchy UltraFlex knee panels for freedom of movement. Inside the 3/2 Ultrastretch neoprene, you'll find a heat-retaining Thermocarbon lining that fends off the chilly Atlantic water without causing you to break a sweat, and Xcel also hooked up wind-resistant Texture Skin technology on the torso for some extra warmth. The minimal glued, blindstitched, and pressure-taped seams keep water out without feeling clunky, and the Smoothskin-lined collar won't rub you the wrong way. The best part? This suit won't break the bank, so you can save your money for a lobstah dinnah down by the whattah. .
3/2 Ultrastretch neoprene
Thermocarbon viscose from bamboo and recycled polyester lining
Glued and blindstitched seams with pressure-bonded taping
Offset back zip with an inner neoprene dam
Wind-resistant Texture Skin technology
Minimal seam design
Double-layer Ultrastretch collar with SmoothSkin lining
Flexible DuraFlex knee panels
Tech Specs
Material
[body] Ultrastretch neoprene; [lining] Thermocarbon (viscose from bamboo, recycled polyester)
Water Temp
56 - 62 deg
Thickness
3 / 2 mm
Zip
OS (offset back zip)
Seam Construction
Fusion (glued and blindstitched, pressure bonded taping)
Recommended Use
surfing, SUPing
Manufacturer Warranty
1 year
Sizing Chart
NOTE:

This should be used as a guide only. If you are between sizes, XCEL suggests that you size up.
XCEL Sizing
Women's Wetsuits
Height
Weight
Bust
Waist
Hips
4
5ft-5ft 3in
(154-160cm)
95-105lb
(43-48kg)
32.5in
(82.5cm)
24.5in
(62cm)
33.5in
(85cm)
6
5ft 2-5ft 5in
(158-165cm)
105-115lb
(48-52kg)
34in
(86.5cm)
26in
(66cm)
35in
(89cm)
8S
5ft 2in-5ft 4in
(158-163cm)
105-120lb
(48-54kg)
35.5in
(89cm)
27.5in
(70cm)
36.5in
(93cm)
8
5ft 4in-5ft 7in
(163-170cm)
115-130lb
(52-59kg)
35.5in
(90cm)
27.5in
(70cm)
36.5in
(93cm)
8T
5ft 7in-5ft 10in
(170-178cm)
120-135lb
(54-61kg)
35.5in
(90cm)
27.5in
(70cm)
36.5in
(93cm)
10S
5ft 3in-5ft 6in
(160-168cm)
120-135lb
(54-61kg)
37.5in
(95cm)
29.5in
(75cm)
38.5in
(98cm)
10
5ft 5in-5ft 8in
(165-173cm)
130-145lb
(59-66kg)
37.5in
(95cm)
29.5in
(75cm)
38.5in
(98cm)
10T
5ft 9in-6ft
(175-183cm)
140-155lb
(64-70kg)
37.5in
(95cm)
29.5in
(75cm)
38.5in
(98cm)
12
5ft 6in-5ft 9in
(168-175cm)
150-165lb
(68-75kg)
40.5in
(103cm)
32.5in
(82.5cm)
41.5in
(105.5cm)
14
5ft 6in-5ft 9in
(168-175cm)
160-180lb
(73-82kg)
44in
(112cm)
36in
(91.5cm)
45in
(114cm)
How to Measure:

For best results, take measurements over your underwear.

Bust:

Measure under your arms, around the fullest part of your chest.

Waist:

Measure around your natural waistline, keeping the tape a bit loose.

Hip:

Measure around the fullest part of your body at the top of your legs.