Nixon Whip Headphones
Whatcha listening to. Whatcha listerning to. Whatcha listening to. Whatcha listening to.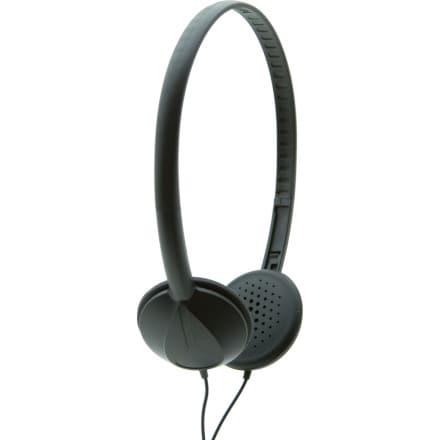 Quantity Remaining:
19
Time Remaining:
Description
Super lightweight, the Nixon Whip Headphones are ideal for jamminí your tunes on the go. The 30mm drivers provide plenty of frequency response. So whether youíre feeliní some rap or metal itís still going to sound prime. And the custom molded silicone ear cushions make it easy to ignore the world all day.
Tech Specs
Material
plastic
Driver
30 mm
Input Connection
plug [3.5 mm]
Cord Length
59 in
Claimed Weight
1.75 oz
Recommended Use
jammin' tunes
Manufacturer Warranty
2 years
Reviews
Dont judge headphones by their look
March 30, 2010
Yes i am like most people and do judge everything intially by looks. But i like to think that i am the type of person where that only last a moment then I get on with my life and think "Nothing is as it seems." SO TRUE WITH THESE HEADPHONES. i mean just look at them. For most people (Like me) I saw these and said "Man these things are ugly and plastic... why would anyone buy them? These things are much more amazing then they look. Heres what i have come to find: Super light Weight (It is like ur holding a pencil they are that light) The earpad things- Omg they arent hard plastic. They are supper soft and squish and they stick to beanies amazingly well. Looks- They are plain compared to skullcandies but the goldenrod stand out and i love their brightness sound quality- Nothing to go bragging to your friends about but it is crystal clear and good for riding to. Not something i would wear if i was actually just focused on the music. DONT BE FOOLED. These are amazing headphones and i suggest trying them over the skullcandy icons anyday. Well worth the extra money
– Kylie
Niiiiiiiiicce for the snow
July 9, 2012
These are nice for a day on the snow. Stick to your head, alright when they get wet, and don't have ta mess with sticking it back in your ear. Do fit a little funny if you don't have a FULL head of hair or beanie on but it does the job. And they do look a little funny on ya without a beanie or something on
– shakafo00o
Lightweight delight
April 27, 2012
having already purchased the Nomadics and the Troopers, I was relieved when Nixon finally put something a bit lighter and more user friendly on the market. These sound just as good to me as the Troopers, however they are less conspicuous (but still manage to retain some of Noxn's understated, eye catching styling) and far nicer to use on an every day basis. A word of warning, the colours are bright, probably more so than some photos suggest. I have them in orange and they are quite a flourecent colour. For their size I was pleasantly surprised. They pack a decent punch that was better than I expected, however they don't handle treble too well on my ipod when it's at it's highest volume. This is easily dealt with by urning the trble reducer EQ on. They fit very comfortably and the sound travels through my beanie without any reduction in volume. These are a great alternative to in-ear phones if you want to give your ear drums a rest. Go buy them, they are definitely worth the cash.
– Jim
Upgrade to my skullcandy's
February 16, 2012
I was totally disappointed with the skullcandy icon's I have. Got now those to replace them. I love them. They sound good, fit sweet and the earpads are even a bit soft, what I didn't expected. Nixon quality.
– Andreas Wohlfarter
beware the water
February 7, 2012
Canít GO wrong with these spantafarific duel beat machines, they blast out my polka-deathmetal better than any other sound device in existence. Plus the slim design and slightly purple chord attracts all the ladies, not to mention wildebeests, Lepracons and the elusive beluga whale. Warning beluga whales mate for life, avoid large body of water while adorning these ear slamping cranial contraption.
– shredtheshit
Good but....
January 29, 2012
I would give these 5 stars all day if mine hadn't just broken. I copped for like $15 off whiskey, well worth it, and much more. So comfy with the rubber/padded ear piece. Pulled the cord too hard apparently below the cord split and mine went caput. Otherwise solid, real solid.
– Blake
amazing
January 5, 2012
these headphones were a last minute buy before i headed up the mountain for the first boarding session of the season. they do not disappoint. the bass on these bad boys is amazing and the silicone on the headphone makes them stick to your beanie so they don't slide around. i would definitely recommend these to anyone looking for a low profile, great sounding headphone that you can beat into the ground and not feel bad about.
– sleepingdeep2281650
So sick wit it!
November 30, 2011
i got them blues n ive been bumpin em since i took em outta the package. the silicon earpads are so perfect, you can headbang fat n ur beanie falls off way before the headphones even move! Buy em, rock em, love em.
– ryan
Perfect
November 6, 2011
These work great with my Red Mutiny helmet. The sound quality is amazing for the price :)
– Trevor Lightner
nice!
October 11, 2011
These were just delivered today. Tried them out and the sound was very solid. The look is great and the price was fantastic since I snagged them on whiskey militia for next to nothing. Overall, I hope they hold up and look forward to rockin' them around campus.
– Spearmint77
sound quality: ok
May 7, 2012
If you are looking for quality sound I would not recommend these. They worked good for riding though, still work even after getting them wet with snow. Sounds Quality is not so great. (Matix headphones have better sound quality)
– muchachita linda
surprising
December 13, 2010
When I popped this pair of headphones out of the packaging, I couldn't help but be a little taken back by their simplicity and minimalistic feel. They seemed a little cheap looking, but I proceeded to plug 'em into test their intended use. For the size they really pack a punch.. distortion free at high levels. I bought these for snowboarding, and in my opinion they are the best suited headphone for that. Their low profile design will go great over a beanie and under goggles. You can thrash around without these things moving whatsoever. I think Nixon needs to cut back their packaging materials cause I'm pretty sure the box uses more resources then the headphones themselves. I'd recommend these headphones for anyone looking for a good all around boarding go-to pair. I'm over fussing with jamming cold earbuds in my ear on the mountain. Overall the silicone ear cushions are just enough stick to stay put, they produce quality sound and I can't even tell I'm wearing headphones at all because they're so light and form fitting.
– hard mf
steezy
June 22, 2010
i got them mainly for their looks, and relatively cheap price, but i've been pleasantly surprised with their comfort and sound. the silicone rubber is really soft and feels good. the cord seems a little thin, though, and while i'd worry about breaking it while snowboarding or something, it should be fine if you're just lounging. the sound also has some decent depth to it -- the only knock is that they fit a little loose. if you press the ear pieces snug against your ears (like when i wear a beanie over it or something) then the sound is improved. but for the price, you def can't go wrong with these.
– schadenfreude
bye-bye skull candy
December 14, 2009
I've long been a supporter of the Skull Candy Icons for shreddin ...but only because there wasn't anything better on the market. These Whips blow the Icons away in every aspect. The Icons come with foam or leather ear cups that are uncomfortable and snow sticks to them like crazy. These Whips have rubber-like ear cups that are comfy and they grip my hat so they don't eject off my head when I bail. The Whips are lighter and the ear cans are lower profile. The adjustable headband stays where you adjust it to. Finally, they sound way better. Do yourself a favor. For all the hundreds of hours your headphones are blasting tunies, spend the extra five bucks and upgrade from the Icon to the Whip.
– Shredwise
good ones
February 28, 2010
Stylish headphones from Nixon. Good sound quality. They actually look quite simple for their price, but do the job well. Rubber pads are perfect snowboarding or any action sports,though the flex is not stiff enough i think. Also there was a bad contact in the jack itself, I had to replace it with the new jack.
– Zurab Tekaev
Best Bang for your Quarters!!!
December 7, 2009
I say quarters cause lets be honest.....if your buying a headphone for $30 you might as well pay with quarters since these babies will barely put a dent on your wallet. The sound on the Whips is superb and the silicone coated ear cans keep them from sliding all over your ish. Great headphone for all activities and especially dope for when you are on the hill cause they will stay put over your beanie!
– Jake Hobbs - Nixon/Electric Rep
sound amazing
January 3, 2010
these headphones r the best sounding headphones ive ever had there really small for such a great sound they also make the headphones s that they can fit on perfectly (because they are over ear headphones) but they need a voulume nob!
– gage
wow
May 23, 2011
first off these shipped really fast, ordered on friday and i got them on monday. the phones themselves arent like what they look like in the picture. they are much smaller and feel so much better than they look. the sound these phones make is of the chart, for being so small they deliver. bottem line, GET THE PHONES!!! well worth the cash
– larry